$10B-plus Texas LNG Project Gets Go-ahead
by Matthew V. Veazey
|
Rigzone Staff
|
Tuesday, February 05, 2019
The Southeast Texas project will create more than 9,000 jobs.
Partners Exxon Mobil Corp. and Qatar Petroleum have made a final investment decision on the Golden Pass LNG export project in Sabine Pass, Texas, and will break ground on the development during the first quarter of this year, ExxonMobil reported Tuesday.
"Golden Pass will provide an increased reliable, long-term supply of liquefied natural gas to global gas markets, stimulate local growth and create thousands of jobs," Darren Woods, ExxonMobil's chairman and CEO, said in a written statement emailed to Rigzone. "The extensive experience of ExxonMobil and Qatar Petroleum provides the expertise, resources and financial strength needed to construct and operate an integrated liquefaction and export facility in the United States."
Qatar Petroleum owns a 70-percent interest in the Golden Pass Products LLC joint venture and ExxonMobil holds the remaining 30 percent stake. The companies formally announced their decision at a ceremony Tuesday in Washington, D.C., in the presence of U.S. Secretary of Energy Rick Perry, Qatar's Minister of State for Energy Affairs Saad Sherida Al-Kaabi and other officials, Qatar Petroleum stated in a separate announcement.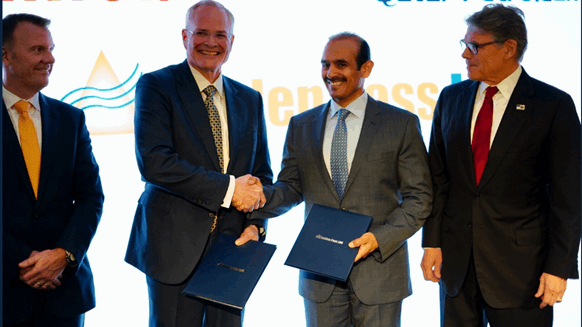 ExxonMobil's Darren Woods and Qatar Petroleum's Saad Sherida Al-Kaabi shake hands as US Energy Secretary Rick Perry (right) and an unidentified gentleman look on. PHOTO SOURCE:
U.S. Department of Energy Twitter
"The Golden Pass LNG export project is not our first investment in the United States and is certainly not going to be our last," stated Al-Kaabi, who also serves as Qatar Petroleum's president and CEO. "It represents a significant part of the plans that Qatar Petroleum had announced to invest 20 billion dollars in the U.S. energy sector, which we believe would bring great benefits to both the United States and the State of Qatar."
According to ExxonMobil, the $10 billion-plus Golden Pass project will be capable of producing approximately 16 million tons of LNG per year. The company stated that the construction phase of the project should create roughly 9,000 jobs and that the facility, slated to start up in 2024, will support more than 200 permanent jobs during operations.
"The Golden Pass project is proof that two of the world's top energy producers can work together as allies to increase energy diversity, advance energy security and support rather than subvert an open energy marketplace," Perry said in a U.S. Department of Energy (DOE) press release.
DOE has granted Golden Pass LNG authorization to export to countries that have free trade agreements with the United States as well as those that do not, according to the project website. In addition, the project received authorization from the Federal Energy Regulatory Commission in 2016.
Separately, Golden Pass has awarded McDermott International, Inc., Chiyoda International Corp. and Zachry Group the mega-contract to build the export project, McDermott reported Tuesday. McDermott stated that the joint venture partners will perform engineering, procurement, construction and commissioning of three approximately 5.2-million ton per annum LNG trains. The company did not specify the value of the contract but stated that it exceeds $1 billion.
Generated by readers, the comments included herein do not reflect the views and opinions of Rigzone. All comments are subject to editorial review. Off-topic, inappropriate or insulting comments will be removed.
RELATED COMPANIES