EQUIPMENT LISTING DETAILS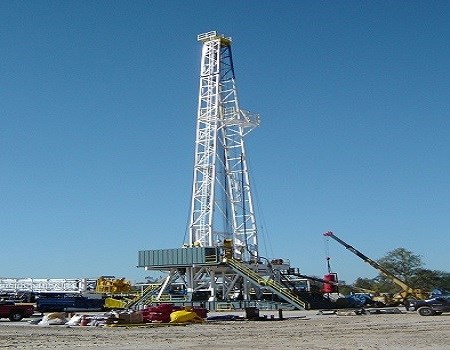 BHL NEW 1500HP AC x 750,000 lbs. HOOK LOAD LAND DRILLING RIG
Equipment Description
BHL NEW 1500HP AC x 750,000 lbs. HOOK LOAD LAND DRILLING RIG

MAST: (N)
Model: 142' x 750,000 lbs BHL Self-Elevating Mast
Racking Capacity: 15,000 ft. of 5" ø (Triples)
Mast is API 4F-0167 Monogrammed and Certified

SUB STRUCTURE: (N)
Model: BHL Self-Elevating
Drill Floor Height: 30 ft. (32 Ft. with Skid Rails)
Casing Capacity: 750,000 lbs.
Setback Capacity: 450,000 lbs.
Total Capacity: 1,200,000 lbs.
Substructure is API 4F-0167 Monogrammed and Certified

AC TOP DRIVE: 500 Ton (R)

CAT WALK: 1 Piece, 18" H x 5' W x 45' Long (N)

PIPE RACKS: 6 Pipe rack beams, 3 on each side of Catwalk (N)

DRAWWORKS: (N) 1500HP AC

DRILL LINE: (N) 5,000 ft. Type: 1 ¼" Ø RRL, EIPS, IWRC

DEADLINE ANCHOR: (R) Hercules 12 lines; 750,000 lbs.

DRILL LINE SPOOLER: (N) Electric Drive. 5,000 ft. of 1 ¼" Drill line

TRAVELING ASSEMBLY: (R) 400 Ton

ROTARY TABLE: (R) 37 ½" Square, 400 ton

MUD SYSTEM:

Mud Pumps: (2) 1600HP AC (R); Triplex 7500 psi
Mud Tanks: 1000 BBL Total Capacity – 2 Tanks (N)
Shaker Tank; 500 bbl, Equipped with Roof, (N) w/
Suction Tank; 500 bbl, equipped with a roof, (N) w/
Trip Tank: 75 bbl (Split into two compartments) (N) w/10 bbl strip tank (N)

GENERATOR UNITS (R)

Engines 3 Caterpillar 3512 (R)
Generators 3 Kato 6P6-3300 (R)

VFD HOUSE: (N) 3 x 4 System

AUXILIARY EQUIPMENT & STORAGE: (N)

Air Compressor (N), Air Receivers (N,) Air Dryer (N), Cold Start Compressor (N), One (1) Driller's Control Cabin w/ Joystick Controls (N), Change & Equipment Storage House (N), Fuel Tanks (Total 500 BBLs) (N) , Water Tank (N), 500 BBLS

INSTRUMENTATION, CONTROL & RECORDING EQUIPMENT (N)

Driller's Console, AOI Custom, Single Bay w/ (N), Top Drive Driller's Control Panel (N), Analog Drilling Recorder- (N): 1 – ARG series 7 pen recorder, Advanced Drilling Monitoring System (ADMS)

MISCELLANEOUS EQUIPMENT

Choke Line Valves (N) 10,000 psi, Kill Line Valves: (N) 10,000 psi, Accumulator Unit and Control (N), Choke Manifold (N) 10,000, Mud Gas Separator, Hydraulic Cathead: N), Hydraulic Power Unit: (N), Air Hoists: (N), Derrickman's Assist Tugger (N) at Racking Board (N), Lift Assist Assembly, including Geronimo Seat and escape slide (N), Standpipe: (N) 7500 psi, Standpipe Manifold: (N) 7500 psi, BOP Handling System: (N), 50 Ton Capacity BOP Rails and Trolley and Hoist (N), Headache Rack for Mast (N)

DRILLING FLOOR EQUIPMENT: (R)

2 x Slips: each Wooley XL type A, Elevators: x 2, Tongs: Wooley Super B Heavy-Duty, Dog Collars/Safety Clamps, Fresh Air Blowers (4) Units (N), Well Site Laboratory

ELECTRICAL DISTRIBUTION SYSTEM: (N)

RIG PROCESS PIPING SYSTEM: (N)

CODE: (N) New (R) Refurbished

BHL International Inc.



Equipment Gallery