EQUIPMENT LISTING DETAILS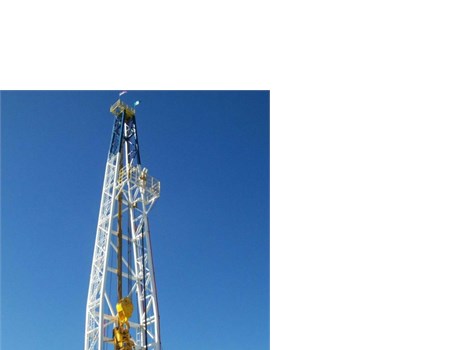 BHL BRAND NEW 3000HP X 1,500,000 LBS. HOOK LOAD LAND DRILLING RIG
Equipment Description
BHL BRAND NEW 3000HP x 1,500,000 lbs. HOOK LOAD LAND DRILLING RIG
(API 4F 4TH EDITION NAMEPLATE AND MONOGRAMMED YEAR 2020)

Mast: 147' x 1,500,000 lbs. Self-Elevating (New)
Substructure: Self-Elevating (New)
Mast and Substructure NEW API 4F, 4th (Latest) Edition Monogrammed and Certified
Top Drive: 750 Ton
Rig Skidding System: (New) – Included. 5 Sections. No Limit to Number of Wells (Leap Frog Design)
Drawworks: National 1625 3000HP
Drill Line: (New) 5,000 ft. Type 1-5/8", EIPS, IWRC
Deadline Anchor: Hercules , 120,000 lbs. capacity; Hook Load capacity on 14 lines: 1,680,000 lbs.
Traveling Assembly: (Newly Refurbished) Block: 750 Ton; Elevator Links: 144", 750 Ton
Rotary Equipment: (Newly Refurbished
Rotary Table: 37 ½"; Rating: 750 tons
Mud System (New) (3) 1600HP Triplex; Rating 7500psi
Mud Tank Capacity: 3000 BBLs Total. 1500 BBLs Active, 1500 BBLs Reserve
Generator Units: (4) CAT Engines 3516
SCR House:
4 Gen x (5) SCR Bays
Auxiliary Equipment & Storage:
Air Compressor (2)
Air Receivers: (2) 200 gallon vertical; (1) 600 gallon at substructure
Air Dryer
Cold Start Compressor
Dog House
Change & Equipment Storage House
Fuel Tanks (500 BBLs Total)
Water Tank (500 BBLs Total
Instrumentation, Control and Recording Equipment (New)
BOP and Well Control Equipment (Refurbished)
10,000 psi Annular;
15,000 psi Single Ram;
15,000 psi Double Ram;
15,000 psi Drill Spool
Mud Gas Separator: 48? Diameter x 20' High
Stand Pipe and Stand Pipe Manifold Rated to
7500 psi to match Mud Pump Rating

BHL International Inc.
Equipment Gallery