EQUIPMENT LISTING DETAILS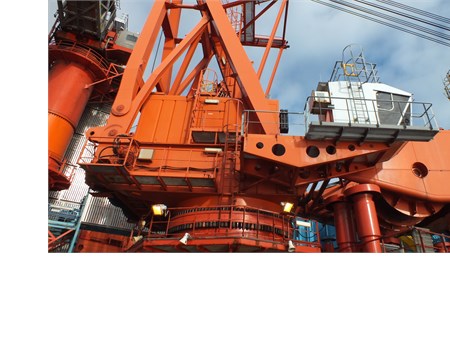 Offshore Pedestal Crane / Subsea Lifting Crane, Liebherr BOS, 200 Te SWL at 35 m with 56 m boom
Equipment Description
The offshore crane was previously installed on a North-sea class semi-submersible platform and can either be operated in standard set-up (max. SWL 200 Te), or alternatively with counter-ballast (max. SWL 400 Te). The max. operation radius is 56 m with long boom aux. hoist with 10 Te SWL. A new crane boom extension can be installed.

SWL capacity with 40 m (aux. 56 m) boom with 100% counter weights and 2 X 2 fall operation:
200 Te / 11 - 35 m
153 Te / 11 - 40 m
10 Te / 15 - 56 m (auxilliary hoist)

SWL capacity with 40 m (aux. 56 m) boom without counter weights (rigged up as shown on pictures):
200 Te / 11 - 25 m
160 Te / 11 - 25 m
100 Te / 11 - 40 m
10 Te / 15 - 56 m (aux. hoist)

The crane can also perform sealifts (subsea construction).
Lift Height with 8 fall/620 m, with 2 fall/2620 m
It is equipped with a Variable Constant Tension System.

Power Supply: 3 phase 440 v 1194 amp 728 kW required.

Condition (upgraded and rebuilt in 2003):
The crane was totally refurbished and received an extensive upgrade by Liebherr in 2003, including installation of a new cabin, new control system, upgrade of the power pack etc.).

The crane is a well maintained machine in very good condition with excellent performance recorde.

Pedestal:
Diameter of pedestal: 5020 mm Ø
Wall thickness of pedestal: 40 mm
Bolt hole circle C - C: 4745 mm Ø
Weight: 23600 kg (pedestal adaptor)

Weights:
The crane parts were removed as per the original Liebherr drawings.
Boom = 158 Te (removed as one single lift)
A Frame = 57 Te
Machinery house and slew ring (combined) = 120 Te (removed as a complete unit)
Crane Pedestal (Taken off as a complete unit less 150mm left on deck)= 40Te
Crane block = 12 Te

CLICK HERE for more information and pictures on our website.

Note: For more information about the crane rigged with short boom and counter weights for 400 Te SWL, CLICK Listing ID 20096.

Equipment Gallery