EQUIPMENT LISTING DETAILS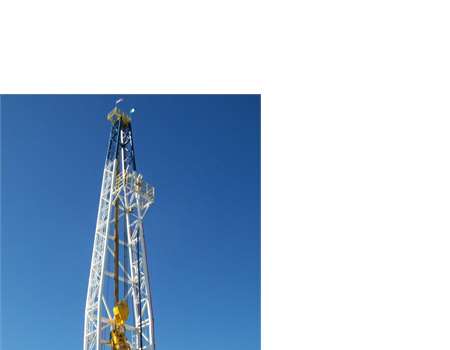 BHL 147' X 1,500,000 LBS. HOOK LOAD MAST AND SUBSTRUCTURE
Equipment Description
BHL 147' X 1,500,000 LBS. HOOK LOAD MAST AND SUBSTRUCTURE
(Built and Nameplate Monogrammed Year 2020)

BRAND NEW MAST,
147' clear height, 1,500,000 lbs. static hook load capacity, strung on 14 lines with 25' base, ladders and crown assembly and racking board.

The Mast is monogrammed and certified under the latest API Specification 4F, Fourth Edition

The crown assembly is supplied complete with a main cluster consisting of seven (7) sheaves, a fast line sheave each grooved for 1 5/8" wireline and arranged to accommodate a seven (7) sheave traveling block, handrails, bumper blocks, padeyes for block suspension line, tugger sheaves and top drive

The racking board is designed for a racking capacity of 25,000 of 5 1/2" drill pipe and ten (10) stands of 10" Drill Collars. The racking board is complete with an adjustable diving board, finger covers for the driller's side fingers, 84" handrails, racking board frame and a ladder landing platform with handrails.

Two (2) tong counterweights complete with buckets, guides, blocks and wirelines are included.

Two (2) Tugger sheave units grooved for 9/16" diameter wireline.

Mast Raising Yoke

Mast Raising Lines

Derrick Man's Climbing Assist

Ladder to Crown with Cages

The mast contains all the necessary drive pins and bolts for assembly

The mast will accommodate 750 ton Top Drive

Mast Stand

SELF-ELEVATING SUBSTRUCTURE:
Brand New Self-Elevating type Substructure is supplied complete as per the following:
The substructure is rated for 1,500,000 lbs. casing load simultaneous with a setback of 800,000 lbs. (2,300,000 lbs. total capacity). The drill floor is 32' high from ground level.
The drawworks self-elevates to drill floor level using its own power.
The structure is to be supplied with checkered floor plate, safety handrails with toe-boards.

Features:
The Drill floor area is 40' x 40'
Three (3) sets of stairs from working floor, two (2) to the ground and one (1) to the trip tank landing complete with handrails.
V door ramp
Mast shoes are included with the substructure.
The Substructure is monogrammed and certified under the latest API Specification 4F, Fourth Edition. API 4E substructures were obsolete in 1985, API 4F – 1st, 2nd, and 3rd Editions are also now obsolete.

In accordance with API Rules, all masts and substructures must now be built under the more stringent API 4F, Fourth Edition Specifications.



Equipment Gallery