EQUIPMENT LISTING DETAILS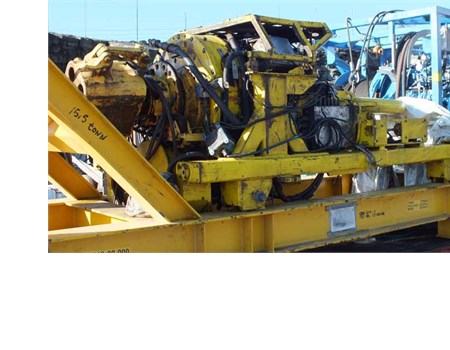 Varco Top Drive Model TDS7-S AC T - 650 ton
Equipment Description
NOV Varco BJ TDS-7S, Capacity: 650 ton ( 590 MT ) furnished with retractable dolly. In good condition.

Top drive unit including pipe handler, dolly and power loop etc. previously used on an offshore fixed platform.
The top drive unit is relatively compact and it is suitable for use on land rigs.
Working height: 245.5 inches (6.236 m) from top tool joint to bail. (Calculated using 108 inches links)
Guide dolly configuration, Rail Spacing: 43 x 66 In. HEB-280 (this can be reduced).
Rail loading while drilling: 34,000 ft.lbs
Max. rpm: 225
Max continuous torque: 45 kNm. (33,200 ft.lbs) at 150 rpm.
Max. intermittent torque: tba.
New AC El. motor type ABB HXR 450LM8 740 KW (AC) available and can be included.

The top drive has been maintained as per OEM recommendations and is subject to new 5-yearly overhaul.

Package of various spare parts for Varco top drives is also available for sale.

Click here for more information and pictures on our website.
Equipment Gallery