EQUIPMENT LISTING DETAILS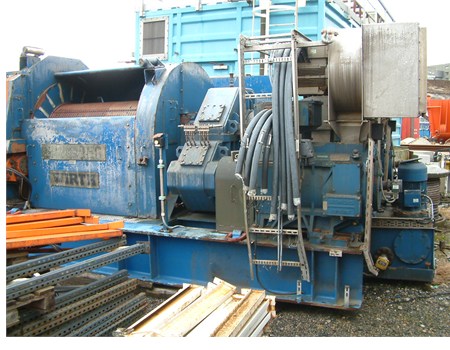 Well Intervention / Light Drilling Rig Equipment - Subsea
Equipment Description
Subsea Light Well Intervention Equipment previously used on semi-submersible platform.

Note: We can split the package and sell individual equipment out of this package.

The Package of Well Intervention Equipment comprises (not limited to):
SOLD: ( - UL 05469 Derrick Structure. Maximum Hook Load 226MT. C/w Wind Walls.)
- UL 04284 Wirth Drawworks GH2800 EG AC 1G with 2 x AC Variable Speed Drive Motors. Disc Brakes. 1-3/8" Wireline.
- UL 05681 Aker MH Drillers Cabin with Control Panels
- UL 05622 Switch gear Container (LER) with AC drives for drawworks and starters
- UL 05487 MH Travelling Block. 350T. 1-3/8" Wireline
- Elevator Link Yolk with Link Tilt. (Used in conjunction with Travelling Block and Heave Compensator)
- UL 05737 Compensator, Drill String, M.H. In-line heave compensator - Capacity 250 tons - 500,000 lbs x 18 ft stroke.
- Upper and Lower Guide Dollys
- UL 05491 Inline Active Heave Compensator.
- UL 04555 Deadline Compensator. 226T Hook Load. Max Stroke 5.4 m
- UL 05516 APV Bank. Vessel, pressure, air, 2400 psi x 1000 ltr
- UL 04987 Hydraulic access Basket (Cherry Picker) 300Kgs SWL. With Remote Control Stand.
- UL 05489 Hydraulic Drill Line Reel c/w 1500m 1-3/8" Drill Line.
- UL 05488 Maritime Hydraulics Dead Line Anchor with Martin Decker E80 Load Cell.
- UL 05696 Hydraulic Cat heads - Maritime Hydraulics. 
SOLD: ( - UL 04628 Hydraulic Tubular Stabbing Arm and Remote Control Stand.)
- UL 05952 Catwalk Machine, Riser Handling Conveyor. (Tube Diameter with up to 14" Flange OD).
- UL 05490 Triplex Pipe Handler Crane. SWL 2T. Up to 9-5/8" Diameter.

Equipment is manufactured in 2003 and was used for a few years onboard a Well Intervention Vessel (Semi-submersible Rig) that was modified to accommodation vessel.

Click here for more information and pictures.
Equipment Gallery