EQUIPMENT LISTING DETAILS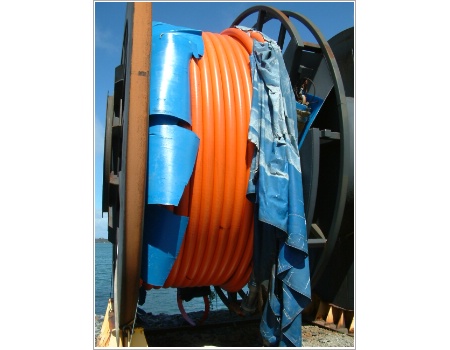 Flexible Flowline Pipe for subsea use: 3264 ft x 4 inch ID x 3940 psi WP
Equipment Description
Flexible pipe line hose (high pressure flowline hose, similar to Technip Coflexip or NKT):
Lenght: 3264 ft (995 m)
Work Pressure: 3940 psi / 271.5 barg
Connections: Techlock FlangePlus rated to Class 2500. Swivel Flange from 4" ANSI B16.5 Class 600. Material AISI 4130. Inconel 625 Inlay.
Pipe Bore Diameter: 101.6 mm (4.00")
Pipe Outer Diameter: 161.8 mm (6.37")
Weight in air: 39.8 kg/m
Weight in seawater, empty: 18.7 kg/m
Originally intended service: MEG Monoethylene Glycol
Field Design life: 50 YEARS !
Unbonded Flexible Pipe.
Complete manufacturing documentation available.
Service: suitable for water injection, crude oil, MEG Mono ethylene Glycol or similar service.
Manufacturer: WELLSTREAM

From name plate:
WELLSTREAM PWO A648-2 FEB1995
04-INCH * 271.5 BARG DESIGN PRESSURE
295.3 BARG FIELD TEST PRESSURE
592 BARG BURST PRESSURE
1.83 M MINIMUM BEND RADIUS
60 C MAX. FLUID TEMPERATURE
A/S NORSKE SHELL P.O. 094711
47000

The hose can also be cut and re-terminated in shorter lengths as per customers requirements.

CLICK HERE for more information and pictures on our website.
Equipment Gallery