Rigzone tracks the worldwide offshore rig fleet through its proprietary RigLogix database, and we make some of the key rig fleet data available to you here. You'll find information on offshore rig utilization, day rates, contracts, equipment specs, and much more.
Worldwide Offshore Rig Utilization
Statistics for the primary segments of the competitive offshore rig fleet.
Month
Drillships
Jackups
Semisubs
January 2015
89
113
78.8%
353
438
80.6%
156
173
90.2%
December 2014
92
112
82.1%
356
436
81.7%
155
174
89.1%
November 2014
94
110
85.5%
361
431
83.8%
155
174
89.1%
October 2014
94
108
87.0%
364
429
84.8%
154
175
88.0%
September 2014
94
106
88.7%
363
428
84.8%
154
175
88.0%
August 2014
94
103
91.3%
367
428
85.7%
156
175
89.1%
FEATURED RIG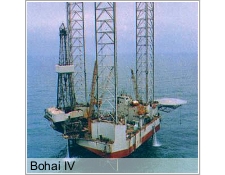 Bohai IV
Manager: China Oilfield Services Ltd.
Location: Asia - Far East
SubseaIQ is focused on investigating and reporting on the latest field developments around the globe.
Learn More
RigLogix is a premium data service providing you with instant access to comprehensive offshore rig data covering the entire global fleet.
Learn More
Offshore Rig Search
Recent Offshore Rig Activity Notes Sample
Below is a sample of the 15 rig activity notes from the last week available to RigLogix subscribers.
February 26 |
Hercules 261
| 250 ft. Jackup
Hercules Offshore has received notice from Saudi Aramco that the contract for jackup Hercules 261 (250'-IC) will be terminated effective March 27, 2015. The contract was scheduled to run through September 2019. Hercules says it is "in the process of seeking a basis for continuing the contract". Hercules has two other jackups under contract with Saudi Aramco, the Hercules 262 (250'-IC) and the Hercules 266 (250'-IC). The company is in discussions with Saudi Aramco about possible rate reductions on both rigs. The contracts run to November 2019 and November 2015 respectively.
February 14 |
Transocean Legend
| 3,500 ft. Semisub
ConocoPhillips has released the Transocean Legend (midwater semisub). The rig recently completed a development program in the Bayu-Undan field having working in and around Australia steadily since 2009. Transocean is mobilizing the rig to Labuan, Malaysia.
February 15 |
HAKURYU-10
| 375 ft. Jackup
Total has elected to exercise its one-year option for the Hakuryu-10 (375' ILC). The option will take effect July 12, 2015 at rate in the high-$110s. Currently, the rig is earning a rate in the high-$130s. Total will continue to utilize the rig offshore Indonesia. This is the last option that Total has for the rig.
February 14 |
ENSCO 8502
| 10,000 ft. Semisub
While on location for Talos Energy at Green Canyon 237 the ENSCO 8502 (UDW semisub) sustained damage as a result of a fire in the engine room. The CO2 system on board was used to extinguish the fire. No injuries were reported and the rig remains on station over the well. Later this week Ensco plans to move the rig into port to make repairs. UPDATE: Sources indicate it could be anywhere from a few weeks to a month or longer before a replacement rig is moved to location. Reports are that the well was successful and that a 30-day completion is all that remains to complete the contract. However, it is understood that permitting and various scheduling issues could push the date out. Further information will be reported once the exact timing is determined.
February 26 |
West Vigilant
| 350 ft. Jackup
Seadrill Ltd. reports that Talisman Energy will release jackup West Vigilant (350'-IC) by May 2015, well ahead of its previously scheduled November 2016 end date. The rig has been working off Malaysia for Talisman since November 2012.
10 other rig notes were published last week that are only available to RigLogix subscribers.
Subscribe today to get them all in your inbox each Friday.