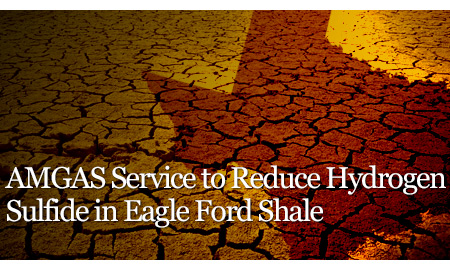 The surge of exploration activity in the South Texas Eagle Ford shale play has resulted in significant hydrocarbon production. However, it also means that producers must find ways for dealing with hydrogen sulfide (H2S) and other noxious emissions due to sour shale production.
AMGAS, a full-service H2S treatment company, recently entered the Eagle Ford market to begin offering its treatment solutions for H2S to allow for the safe transportation of crude oil with H2S by truck and railroad.
AMGAS officially launched its services at the DUG Eagle Ford conference in San Antonio last month.
H2S is a corrosive, poisonous, flammable and explosive gas that can naturally occur from the bacterial breakdown of organic matter in the absence of oxygen. Hydrogen sulfide smells of rotten eggs, even at low concentrations, and can cause people to lose their sense of smell at higher levels.
H2S can cause mild irritation of the eyes and throat at 50 to 100 parts per million (ppm); at 500 ppm and higher, H2S can cause unconsciousness, dizziness and possibly death within 15 minutes to an hour of exposure, according to a presentation by Occupational Health & Safety Administration (OSHA). According to OSHA's website, the U.S. Bureau of Labor Statistics reported that hydrogen sulfide caused 60 worker deaths between 2001 and 2010.
Waterflooding and steam flooding can raise H2S levels in oil production due to the introduction of sulfur-reducing bacteria. H2S emissions are also higher in certain parts of the United States, including Texas. Texas historically has produced a lot of sour oil and gas. According to AMGAS, Texas has over 12,000 H2S gas wells and more than 190,000 oil wells with H2S. Texas is one of 20 states that have 14 major H2S prone areas.
The state has four discrete H2S prone areas, according to a report by the U.S. Environmental Protection Agency on the potential hazards of routine emissions and accidental H2S releases from the production and storage of oil and gas at well sites.
H2S emissions are associated with drilling, completions, well testing, underbalanced drilling, transportation and production operations. While the Eagle Ford shale play has only been targeted for oil and gas production in the past five years, high levels of H2S have been recorded in the Eagle Ford, McKee noted.
"Some of the oil shale reservoirs in South Texas benefit from the use of underbalanced drilling for evaluation purposes," said Sheldon McKee, director of business and product development at AMGAS, in an interview with Rigzone.
At the intersection of chemical, service and equipment AMGAS offers full service H2S treatment with dependable innovations Source: AMGAS
H2S poses a threefold problem for oil and gas operations: exposure of workers to a toxic gas, the negative environmental impact associated with venting H2S and the creation of sulfur dioxide (SO2) when H2S is burned, and the corrosive effect that H2S can have on pipelines, equipment and facilities not built to handle H2S, which can result in mechanical failures.
Higher costs are also associated with sour crude oil and gas production. The cost is directly defined in two ways – higher capital cost on pipelines during new construction or higher operating costs if the gas or oil must be sweetened prior to transportation hydrocarbons down the pipeline. This typically occurs when fields turn sour, McKee noted.
"Sour crude oil and sour gas tend to have lower profit margins because of the treatment cost associated with removing the H2S or sulfur product," McKee noted. "There are certain crude oil indexes that reference sweet crude versus sour crude from a trading standpoint."
With regards to the costs of treating production, it is completely dependent on H2S content, production volume and geographical location.
Sour oil is seeing more of a focus, but is directly correlated to the value of the liquids, McKee noted, adding that dry sour gas is just not economical to produce at this time.
The surge in shale activity, increasingly stringent regulations on emissions of H2S and SO2, restrictions on pipeline infrastructure, and the close proximity of shale operations to residential areas, have made H2S and SO2 emissions a focal point of attention from the U.S. public, oil and gas industry and government agencies, McKee noted.
"The oil and gas industry has to work harder to have less of an impact as industry tries to coexist in urban areas," McKee noted. "From a safety standpoint, you always need to have proper control measures and technologies to eliminate exposures to H2S," said McKee.
Minimizing the creation of SO2 also means that H2S emissions must be reduced at the source.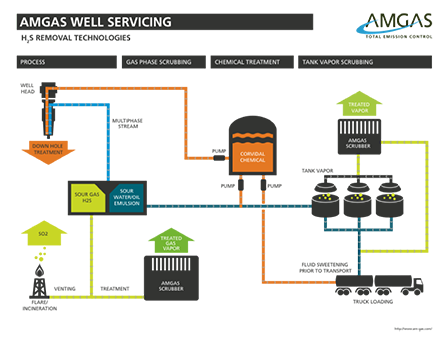 Infographic depicting AMGAS well servicing process Source: AMGAS
AMGAS' H2S treatment and removal services include a scrubbing chemical process that reacts with H2S to create a non-reversible water soluble sulfide that prevents the release of H2S. This method is the most economical way of preventing the souring of petroleum and gas and protecting workers and the environment, McKee noted.
The Calgary-based company designs and manufactures the chemicals and equipment provides all the services, from removing H2S from drilling and completions operations to transportation.
AMGAS' H2S scrubbing technology can sweeten sour production, with three different types of H2S scavengers available depending upon the application. This scrubber technology workers by reacting with H2S to form non-reversible water soluble by-products, preventing the release of H2S into the atmosphere.
In the Eagle Ford shale and other U.S. shale plays, the limited pipeline infrastructure means that production is being shipped out by crude and rail. For storage and fluid loading operations, AMGAS' ScrubberMax Series H2S Scrubber removes H2S being vented from the storage tanker. The scrubber is piped into the vent line and operates at a lower pressure than the tank, allowing the vent gas to pass through the scrubber and for the H2S to be removed.
During truck loading operations, the tank truck vent line can be connected to the same AMGAS scrubber that is controlling the vent gas coming off the storage tank. By tying the vent line from the tank truck, AMGAS can prevent H2S from being released during loading operations.
The company also offers H2S removal technologies for the loading of sour oil into a rail car or tanker with an auxiliary pumping system and loading arm. As the fluid enters the car or tanker, the AMGAS vapor gathering system collects sour vapor and removes H2S with the company's HGR scrubbing technology.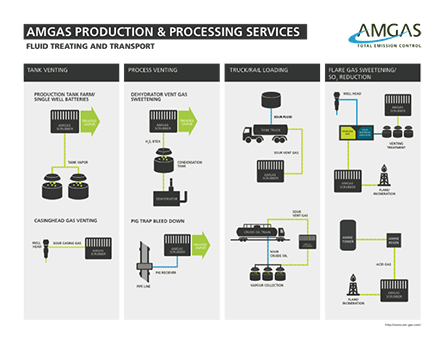 AMGAS' innovations and expertise help producers to safely haul and transport crude laden with H2S by truck and rail Source: AMGAS
AMGAS has been involved in the treatment of H2S in oil and gas operations globally since the 1980s. The company's technology was initially designed to handle conventional production in Western Canada, which is one of the world's highest H2S content reservoirs.
"What we're bringing to the Eagle Ford is not a new concept or an idea, but proven solutions," said McKee, noting that the company was worked with Eagle Ford operators on other plays.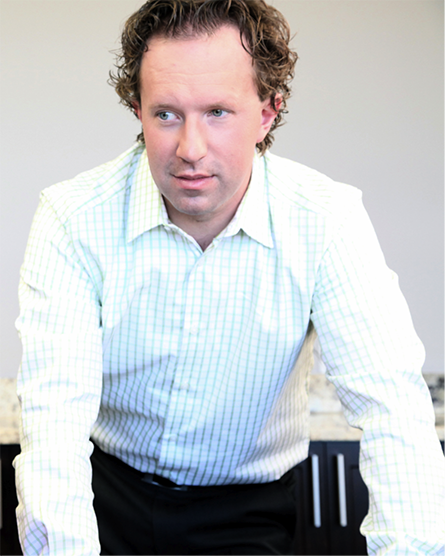 Sheldon McKee Direct of Business and Product Development at AMGAS Source: AMGAS
The company in April expanded its services into Saskatchewan, where producers are exploring Bakken play and changes have been made to regulations for flaring, incinerating and venting of gases.
AMGAS also has introduced a new sour oil recovery process in the Middle East earlier this year. The company has been active in the Middle East, but the surge in sour crude oil production in the region has created a need for AMGAS' H2S solutions, McKee noted. AMGAS now also offers a new mobile service for H2S treatment.