O&G Directory
FEATURED COMPANY: Fiberspar Corporation


Get to know Fiberspar
Fiberspar is an oilfield service company which has developed an innovative spoolable, high-strength, fiber-reinforced pipeline for gathering/injection and downhole production and lift applications. Our patented LinePipe™ and SmartPipe™ products provide dramatic cost and performance improvements over conventional jointed line pipe and production tubing.
Dramatically lower capital and operating costs
Faster installation with fewer people and less equipment, resulting in safer, more efficient operations
Single-source reliability and on-site support during installation
Rapid deployment and service from strategic centers near every major shale play
Unrivaled experience in all environments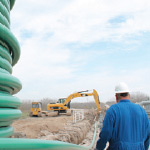 FIberspar is the industry leader in high-strength, fiber-reinforced tubular products for the oil and gas industry. With more than 50-million ft (15-million m) in service throughout North and South America, the Middle East and Australia, LinePipe is the industry's preferred choice for reliable, composite, spoolable pipe with a lifetime of economic and operating advantages.
20% lower total installed costs than welded steel
Faster, easier installation, with less manpower and equipment
Field proven: over 15,000 oil and gas wells and 450 operators
Rapid field-installed line connections and service end fittings
Meets or exceeds the most stringent industry specifications
Suitable for a wide range of capacity and temperature requirements
A breakthrough for downhole applications in natural gas and high-water-cut oil wells up to 7500 ft deep, our spoolable SmartPipe products incorporate fiber optics, copper signal wires, power cables, capillary tubes or other conduits directly into the structural wall of our rugged composite tubing.

Stronger, lighter, more durable and more cost-effective than conventional production tubulars
One-trip installation requires less equipment and manpower than traditional jointed production tubing and artificial lift systems such as externally banded on electric cables or capillary tubes, or internal sucker rod
Unique fit-to-purpose service rig efficiently lowers or retrieves equipment
Significantly lowers production and artificial lift capital and operating costs
Available to install with ESP, plunger lift/chemical injection, gas lift, or velocity string/chemical injection systems
Learn more about Fiberspar composite spoolable LinePipe.
COMPANY INFORMATION
Company:
Fiberspar Corporation
Address:
Northwoods Industrial Park West
12239 FM 529
Houston, TX 77041 USA
Mailing Address:
800 Purchase Street
Suite 502
New Bedford, MA 02740 USA
Phone:
713.849.2609
Email:
info@fiberspar.com
Website:
fiberspar.com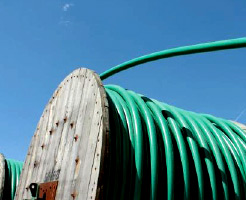 Major operator saves $45m NPV with Fiberspar LinePipe vs. steel in South Texas (PDF Download)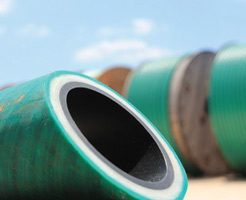 After a decade of service, still as good as new (PDF Download)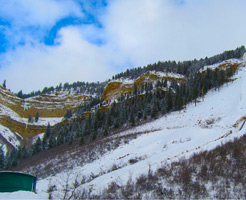 Fiberspar LinePipe installs and operates in the harshest conditions (PDF Download)