Regional News: Latin America
Results
8 articles shown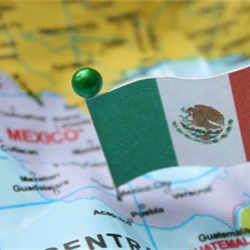 Mexico Energy Regulator Names Firms Qualified For Deepwater Tender
Thursday, August 25, 2016
Mexico's energy regulator says that 26 companies had qualified to participate in the country's deepwater oil tender in December, the jewel in the crown of a landmark energy sector opening.
Mexico Approves Oil Auction Terms For Onshore Tender In 2017
Tuesday, August 23, 2016
Mexico's oil regulator approves auction terms and contracts for a dozen onshore oil and gas fields.
Lack Of Investment, Payment Delays Hamper Venezuela Oil Output
Monday, August 15, 2016
Venezuela, which holds the world's largest crude reserves, is on track to suffer its steepest annual oil output drop in 14 years.
Mexico Said to Begin Quietly Hedging 2017 Oil Price in June
Friday, August 12, 2016
Mexico started quietly buying contracts to lock in 2017 oil prices when futures were near their peak in June.
Hello, Shortcut: Expanded Panama Canal Spurs New LNG Trade Route
Wednesday, August 10, 2016
When the Panama Canal's expanded locks slid open in late June, perhaps no one was happier than executives in the U.S. shale industry.
Mexico Anti-Corruption Law to Impact Oil, Gas Hiring Practices
Friday, August 05, 2016
Oil and gas companies operating in Mexico must prepare to meet new standards laid out in recent anti-corruption legislation.
Grupo R's Newbuild Cantarell I & II Begin Work for Pemex in Gulf of Mexico
Friday, August 05, 2016
Grupo R's Cantarell I and Cantarell II jackups commence work at Pemex's Cantarell oil field in the Gulf of Mexico.
Pampa Energia Eyes Next Year for Bond Take-Out
Monday, August 01, 2016
Argentine energy company Pampa Energia is aiming to issue bonds early next year once it fully completes its merger with Petrobras Argentina, a company source says.