Regional News: South Asia
Results
5 articles shown
Russia's Rosneft, Partners to Invest around $12.9B in India's Essar Oil
Saturday, October 15, 2016
Rosneft CEO Igor Sechin says his company will invest around $12.9 billion in India's Essar Oil.
Undaunted by Gas Price Cut, ONGC Firm on $4.5 Billion CAPEX
Thursday, October 06, 2016
India's largest oil and gas producer will continue with its record investment plan despite a cut in domestic gas prices, which were reduced for the fourth consecutive time last week.
India Clears ONGC's Extra 11% Stake Buy in Russia's Vankor Fields
Wednesday, October 05, 2016
India's cabinet approves ONGC Videsh's purchase of an additional interest in Russia's Vankor oilfields from Rosneft for $930 million - raising ONGC's stake in the project to 26%.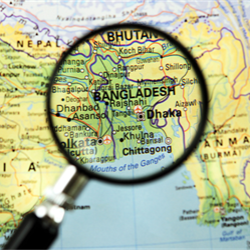 Petrobangla Invites EOIs for 3 Offshore Exploration Blocks in Bay of Bengal
Friday, September 30, 2016
Petrobangla invites foreign companies to submit expressions of interest (EOI) for oil and gas exploration in three offshore blocks in the Bay of Bengal.
Trelleborg Appoints Unique Group as its Agent in India
Tuesday, September 27, 2016
Trelleborg appoints Unique Group as agent in India for its offshore solutions offerings.