News Categories: Pipelines News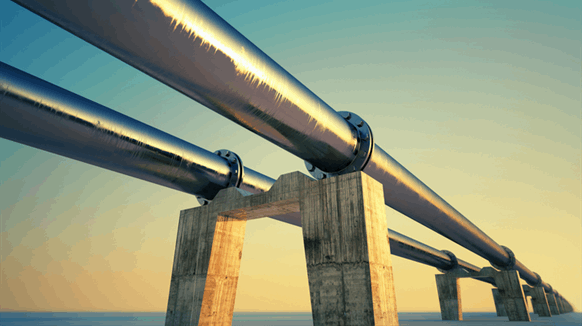 Results
10 articles shown
Can Some Nebraska Farmers Kill the Keystone XL Pipeline?
Monday, August 14, 2017
"When I first started this, it was about my house ... I just wanted to protect my home," said Shannon Graves, who owns a hardware store in Polk, Neb. and lives less than 100 yards from the proposed route of the Keystone XL Pipeline.
Russian Gas Link Offshoot Taps Investors as Sanctions Swirl
Thursday, August 10, 2017
Gascade Gastransport GmbH is in talks with investors to raise money for a new pipeline that will carry more Russian fuel directly to Europe.
Leviathan Partners in Talks to Pipe Gas to Egypt Via Jordan
Thursday, August 10, 2017
Companies developing Israel's largest natural gas reservoir are negotiating an alternative delivery route to key target market Egypt to skirt financial disputes.
Gazprom: Opal Pipeline Operating At Full Capacity
Wednesday, August 09, 2017
Gazprom said it used the Opal pipeline to full capacity for the first time since a German court lifted a restriction on the company's access last month.
Biggest US Fuel Pipeline Fills Up as East Coast Tanks Drain
Wednesday, August 09, 2017
Colonial Pipeline is back to business as usual - with more demand to move fuels to the East Coast from Houston than it has space for.
Japan, Russia Need To Enhance Trust Before Gas Pipeline Plans
Monday, August 07, 2017
Japan and Russia need to work on building a more trusting relationship before any plans to build a natural gas pipeline can be fulfilled.
Greece Gets Six Expressions Of Interest In Gas Grid DESFA
Monday, August 07, 2017
Greece has received six expressions of interest in a 66% stake in its natural gas grid operator DESFA, the country's privatization agency says.
Keystone Foes Duck Climate in Red State Oil Pipeline Battle
Friday, August 04, 2017
You won't hear climate coming from Keystone XL foes as they argue against TransCanada's push to get the final state approval needed to build the pipeline.
Canceled LNG Project Casts Shadow Over Canada's Biggest Shale Play
Friday, August 04, 2017
Petronas' decision to cancel its Pacific NorthWest LNG project is a blow to the growth outlook for Canada's largest shale play.