A Day in the Life of ... Chris Bradshaw, CEO of Era Group
by Valerie Jones
|
Rigzone Staff
|
Wednesday, April 05, 2017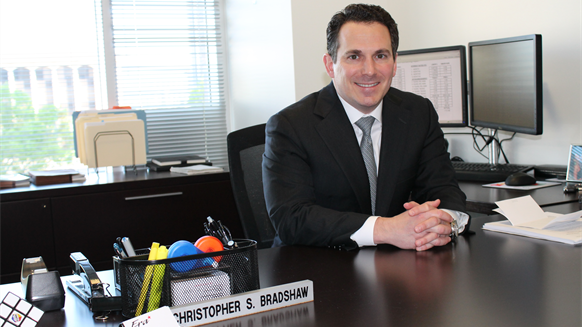 CEO Chris Bradshaw shares what it's like to be the head of one of the largest helicopter operators in the world.
Chris Bradshaw sits in his office with a tidy desk as the morning sun pokes through the blinds. He speaks candidly and easily as he chronicles a typical workday.
As CEO of Era Group, one of the largest helicopter operators in the world, Bradshaw spends any given day reviewing safety reports, attending safety-related meetings and reviewing operational reports about the status of Era's helicopter fleet. Customer-facing activities include preparing new proposals for contract bids and meeting with his senior management team. He also reviews financial data. And with a frequent travel schedule, these duties can either take place in his Houston office or in an airport.
But despite a busy schedule, there's one activity he doesn't miss when he's in town and available.
"I like to do carpool," he said, "so I'll drop my son off at school and come to the office after that."
Era Group's helicopters are primarily used to transport personnel to, from and between offshore oil and gas production platforms, drilling rigs and other installations. The company's helicopters are primarily focused in the Americas, with helicopters as far north as Alaska and as far south as Argentina.
In January, Era's search and rescue (SAR) program, which provides 24-hour offshore advanced life support medical care in the Gulf of Mexico, was named the 2017 winner of Helicopter Association International's Salute to Excellence Airbus Helicopters Golden Hour Award.
"We're very excited about it … it's fun for the team to get to get that kind of recognition for the hard work they've put in over the last several years," Bradshaw said.
Bradshaw took some time to chat more with Rigzone about the unique challenges facing his company, what he loves most about his job and what keeps him up at night.
Rigzone: You have experience in energy investment banking. Considering the state of the oil and gas industry, do you see any investment opportunities in today's energy space?
Bradshaw: This probably won't come as a big shock, but I like our company stock. In general right now, the offshore services sector is very much out of favor. But that's actually the point in the cycle when you can find good investment opportunities for assets or businesses that are well below their fundamental asset value. I think that's very much the case for our business right now as well.
Rigzone: How has your company been affected by the oil and gas downturn?
Bradshaw: The downturn has had a dramatic effect on our business. Approximately 90 percent of our revenues are tied to the offshore oil and gas market. And while most of what we support is production-related activity – exploration activity only represents about 20 percent or less of our revenues – our customers have still been looking to reduce costs across the board. That's reducing their number of personnel located offshore, laying off helicopters, getting better utilization out of the helicopters they have on contract and looking for rate reductions. We've made some really difficult decisions to right-size the business for the current levels of market activity. We've reduced our U.S. headcount by approximately 33 percent. We've remained focused on four key priorities throughout the downturn: 1) maintain the highest safety standards; 2) maximize the utilization of our fleet; 3) realize cost efficiencies wherever possible; and 4) protect our balance sheet.
Rigzone: What's the most challenging part of your job?
Bradshaw: It is a challenging business that we're in. It comes along with all the difficulties of running an aviation business along with the hyper cyclicality of an oilfield services industry. So the most challenging part is that really so much is outside of your control. It will be dictated either by the macro oil and gas conditions or our customer base. Globally, many of our customers do have their own aviation departments and provide their own helicopter services in different parts of the world, including some here in the Gulf of Mexico. So because so much is dictated to you, the challenge is really trying to get the most yield and return on the opportunities that are available to you.
1
2
View Full Article
Generated by readers, the comments included herein do not reflect the views and opinions of Rigzone. All comments are subject to editorial review. Off-topic, inappropriate or insulting comments will be removed.