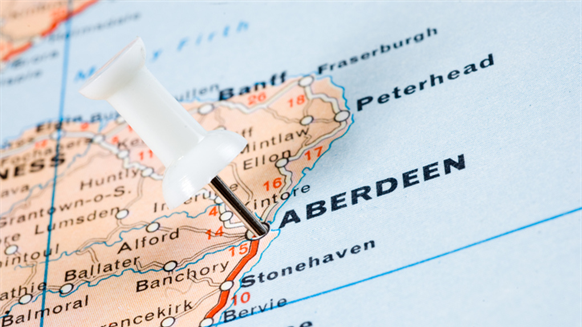 Aberdeen's oil sector has had cause to celebrate recently, following a difficult period in the aftermath of the price crash.
Voters are split on whether or not Aberdeen's oil and gas industry is starting to see some positive developments, following the negative effects of the oil price crash in 2014.
In a Rigzone Twitter poll, 48 percent of the 110 participants agreed with the statement above, while 52 percent disagreed.
Although there has been a spate of recent bad news stories focusing on Aberdeen's oil and gas sector, such as EY's Scottish ITEM Club forecast in which total employment in the city would fall by 4,000 jobs by 2019 and reports that oil and gas companies in the North-East risk going bankrupt.
It is important to note that positive stories have been emerging recently too. It was revealed Dec. 20, for example, that Aberdeen Harbor will expand its facilities into Nigg Bay, creating 7,000 additional jobs in the process.
An independent study, commissioned by Scottish Enterprise, estimates that the $433 million (GBP 350 million) project will generate an additional $1.2 billion (GBP 1 billion) per annum to the economy by 2035.
Furthermore, it was announced in February that M2 Subsea would be creating 150 jobs across Houston and Aberdeen this year. The Remotely Operated Vehicle (ROV) provider, which opened a new office in Aberdeen recently, says the jobs will be a mix of onshore and offshore specialties.
In addition to the employment uptick, it was announced Feb. 10 that a new $225 million (GBP 180 million) Oil & Gas Technology Center (OGTC) had opened in Aberdeen, which aims to become the "go to" place for oil and gas technology in the UK, and internationally.
Colette Cohen, Chief Executive of the Oil & Gas Technology Center, claimed that the new development will help to unlock the full potential of the UK North Sea, anchor the supply chain in the North-East of Scotland and make the region a great place to live, work and invest for decades to come.
"We have a unique opportunity to create a culture of innovation in the UK North Sea," Cohen said in Feb. 10 statement.
"This is our moment. We must be brave and seize the opportunity," she added.
Scottish Government Minister for Business, Innovation and Energy Paul Wheelhouse also said that the new center demonstrates that Scotland's oil and gas industry has a bright future and confirms Aberdeen's position as the world's leading location for oil and gas technology development.
Aberdeen has endured a very tough time as a result of the oil price crash, but a trickle of good news stories is starting to appear. With a rising oil price environment, hopefully we'll see more of these types of stories in 2017.
A graduate in journalism from Cardiff University, Andreas has eight years of experience as a business journalist.
WHAT DO YOU THINK?
Generated by readers, the comments included herein do not reflect the views and opinions of Rigzone. All comments are subject to editorial review. Off-topic, inappropriate or insulting comments will be removed.