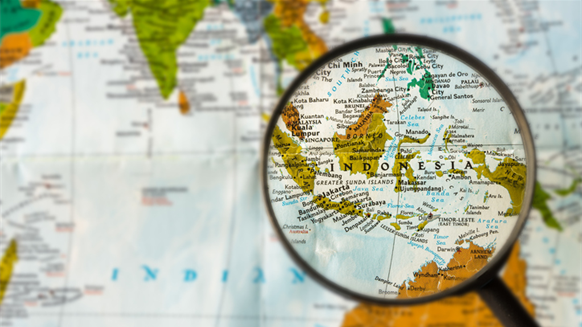 Indonesia plans to boost oil and gas activities in its waters, inviting Malaysia to join Pertamina in exploration work, while seeking to speed up development of the East Natuna block.
Indonesia plans to boost oil and gas activities in its waters, inviting Malaysia to join Pertamina in exploration work, while seeking to speed up development of the East Natuna block.
Indonesia plans to step up offshore oil and gas exploration and development activities in its waters, including those surrounding the Natuna Islands, which are located near the South China Sea where China and 4 members of the Association of Southeast Asian Nations (ASEAN) – Brunei, Malaysia, the Philippines and Vietnam – are embroiled in a territorial dispute.
Indonesia's Coordinating Minister for Maritime Affairs Luhut Binsar Panjaitan, who is also Acting Minister for Energy and Mineral Resources, invited Malaysia's national oil company Petroliam Nasional Berhad (PETRONAS) to join in the exploration of 10 new oil and gas blocks in the country with its Indonesian counterpart PT Pertamina.
Luhut extended the invitation during a meeting Tuesday with Malaysian Deputy Prime Minister (DPM) Ahmad Zahid Hamidi in Malaysia, local daily New Straits Times reported.
"Pertamina will be offering 7 oil and gas blocks in the EEZ (exclusive economic zone) and 3 in Natuna Islands through an open tender," Zahid said.
The Malaysian DPM added that the invitation would open new cooperation opportunities between the two national oil companies.
"PETRONAS is now focusing on explorations within ASEAN for better management and reduced cost," Zahid said, as quoted in New Straits Times.
On Monday, Indonesian daily Jakarta Post reported that Pertamina planned to sign a production sharing contract (PSC) to develop the giant East Natuna block with Exxon Mobil Corp. and Thailand's PTT Exploration and Production Pcl (PTTEP) by September in order to bring the field into operations by 2019.
Pertamina had recently met with representatives of the Ministry of Energy and Mineral Resources' (MEMR) oil and gas directorate general to discuss the issue.
"We are still studying the possible terms and conditions. Before the PSC (for East Natuna) is signed, we will make sure that we have prepared all that is needed," Pertamina Senior Vice President, Upstream Planning and Operation Evaluation Meidawati said Thursday.
According to MEMR's Director General for Oil and Gas IGN Wiratmaja Puja, the government would grant incentives to Pertamina to develop the East Natuna block, adding that a timely signing of the PSC would help achieve first production in 2019, while the joint venture continues its 2-year study on the field.
"Yes, we are hoping to get the PSC signed by September, so that oil production can start in 3 years," Wiratmaja said in the Jakarta Post report.
The region has proven gas reserves of 46 trillion cubic feet (Tcf), but development of the resource is not easy due to a high concentration of carbon dioxide (CO2), estimated at 72 percent, in the field.
As a result, the cost to develop East Natuna gas resource is expected to be high. The joint venture will need to make a large investment – which Jakarta Post citing previous estimates said stood at around $20 billion to $40 billion – in advanced technology to optimize production from the block.
The Indonesian daily also added the block could yield an estimated oil reserve of 46 million stock tank barrels under the gas reservoir, which could produce 7,000 to 15,000 barrels of oil per day.
Chee Yew has covered the upstream and downstream sectors of the oil and gas industry in Asia for more than 15 years. Email Chee Yew at
cheeyew.cheang@rigzone.com
WHAT DO YOU THINK?
Generated by readers, the comments included herein do not reflect the views and opinions of Rigzone. All comments are subject to editorial review. Off-topic, inappropriate or insulting comments will be removed.
Related Companies