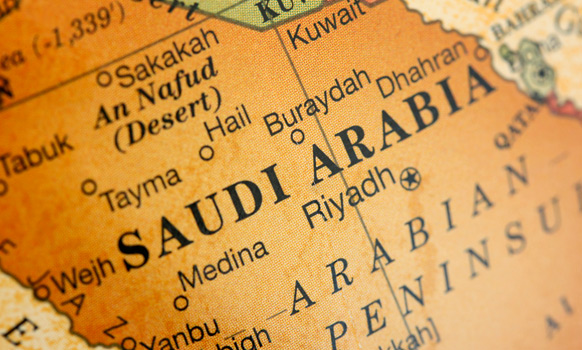 Not content with the blow it's dealt to US oil drillers, Saudi Arabia is set to escalate the battle for market share by raising production to maximum levels.
(Bloomberg) -- Not content with the blow it's dealt to U.S. oil drillers, Saudi Arabia is set to escalate the battle for market share by raising production to maximum levels.
The world's largest oil exporter has already increased output to a 30-year high of 10.3 million barrels a day in a bid to check growth from nations including the U.S., Canada and Brazil. It will add even more to the global glut, according to Goldman Sachs Group Inc. Citigroup Inc. predicts the kingdom will push toward its maximum daily capacity, which the bank estimates at about 11 million barrels, in the second half of 2015.
Saudi Arabia steered the Organization of Petroleum Exporting Countries in November to protect its market share in the face of swelling U.S. crude output, rather than cut supplies to shore up prices as it did in the past. Having abandoned the role of swing supplier -- adjusting production in line with demand -- the kingdom will maximize sales to increase pressure on producers outside the group, the banks said.
"If you are Saudi Arabia and you're looking at the new oil order we live in, you would go to full capacity," Jeff Currie, head of commodities research at Goldman Sachs in New York, said by e-mail on June 15. "The world has come around to the realization that the U.S. shale barrel is the swing barrel."
Historic Role
As result of Saudi pressure, U.S. drillers have reduced the number of operating oil rigs for a record 27 weeks to the lowest level in almost five years, according to Baker Hughes Inc., and oil stockpiles have shrunk as well. Brent crude plunged to a six-year low of $45.19 a barrel in January following OPEC's refusal to cut production. The international benchmark has rebounded about 40 percent since then with the slowdown of hydraulic fracturing in U.S. shale formations. The grade fell 1.9 percent to $63.02 Friday in London.
OPEC agreed on June 5 to retain its collective output target of 30 million barrels a day, although it has surpassed that level for 12 months straight, according to data compiled by Bloomberg. Global supply exceeded demand by 1.8 million barrels a day in the first quarter, according to the International Energy Agency.
While most of OPEC's 12 nations are already producing at maximum levels, Saudi Arabia -- the biggest member and leader of the group's market strategy -- has for years kept fields in reserve capable of producing millions of barrels a day, to be deployed during times of supply disruption. The incentive to keep holding this spare capacity is waning, according to Citigroup.
1
2
View Full Article
Copyright 2017 Bloomberg News.
WHAT DO YOU THINK?
Generated by readers, the comments included herein do not reflect the views and opinions of Rigzone. All comments are subject to editorial review. Off-topic, inappropriate or insulting comments will be removed.
Related Companies