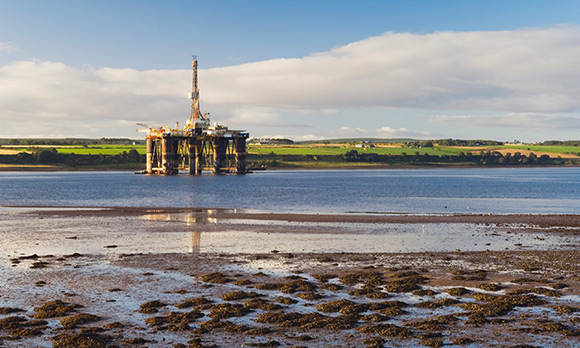 The head of oil and gas for Scottish Development International tells Rigzone it's been a difficult time for Scotland's oil and gas sector, but plenty of international opportunities for Scottish firms remain.
In an audio interview with Rigzone at the 2015 Offshore Technology Conference in Houston, David Rennie – head of oil and gas for Scottish Development International – conceded that it has been a difficult time for the Scottish offshore industry with a general mood of uncertainty, but noted that the Scottish oil and gas sector has "been here before" and that there is a recognition of a need for the industry itself to make changes so that it can remain sustainable in the long term.
Rennie also pointed out that, at a time of low oil prices, the international segment of the Scottish oilfield services industry "becomes even more important". As in previous years, the Scottish Pavilion has "a very strong delegation" at OTC 2015 and "had no problem filling the spaces" allocated to it. "So I think that's a testimony to the importance of the American market," he added.
Rennie also pointed out that there are opportunities for Scotland in Asia, the Middle East, the U.S. Gulf of Mexico, Canada and Mexico.
Listen to the full interview below.
OTC 2015: An 'Uncertain' Time for Scotland's Offshore Industry
A former engineer, Jon is an award-winning editor who has covered the technology, engineering and energy sectors since the mid-1990s. Email Jon at
jmainwaring@rigzone.com
WHAT DO YOU THINK?
Generated by readers, the comments included herein do not reflect the views and opinions of Rigzone. All comments are subject to editorial review. Off-topic, inappropriate or insulting comments will be removed.