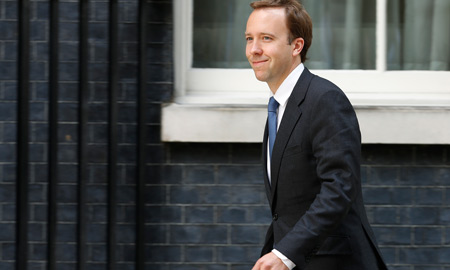 Matthew Hancock takes over from Michael Fallon as junior energy minister at the UK's Department of Energy and Climate Change.
Conservative Party politician Matthew Hancock has taken over from Michael Fallon as junior energy minister with responsibility for overseeing the UK's oil and gas industry, after Fallon was promoted to Defence Secretary in a government reshuffle Tuesday morning.
Hancock, 35, was previously Parliamentary Under-Secretary of State for further education, skills and lifelong learning – a joint post between the Department for Business, Innovation and Skills and the Department of Education. Before being elected to Parliament in 2010 he was an economist at the Bank of England before moving to work for the then Shadow Chancellor of the Exchequer George Osborne.
Industry association Oil & Gas UK guardedly welcomed the appointment, with chief executive Malcolm Webb saying in a statement:
"We congratulate Matthew Hancock on his appointment. We expect the new minister to immerse himself in the industry quickly and get fully up to speed with his new brief and will be offering him an early meeting in order to support this.
"However, today marks the appointment of the fourth energy minister in less than two years and Nicky Morgan's promotion means that we will also have the fifth treasury minister with responsibility for oil and gas in less than three years. This change in government leadership comes at a critical time for our industry and must be managed to result in the least disruption to the conduct of policy initiatives now in train."
Joining Hancock at the Department of Energy and Climate Change, is Amber Rudd – who has been appointed as Parliamentary Under Secretary of State for Climate Change.
A former engineer, Jon is an award-winning editor who has covered the technology, engineering and energy sectors since the mid-1990s. Email Jon at
jmainwaring@rigzone.com
WHAT DO YOU THINK?
Generated by readers, the comments included herein do not reflect the views and opinions of Rigzone. All comments are subject to editorial review. Off-topic, inappropriate or insulting comments will be removed.