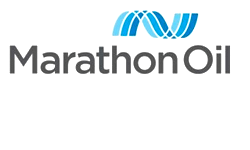 Req ID: 4441
Overview:
Marathon Oil Corporation is an international energy company engaged in exploration and production; oil sands mining; and integrated gas. Marathon Oil has a major leasehold position in the core of the Eagle Ford Shale formation in South Texas. The Company holds acreage in the Eagle Ford, focusing on Atascosa, DeWitt, Gonzales, and Karnes counties.
Marathon Oil Company is seeking an experienced Gas Measurement Technician for our Gonzales, TX field location. The successful candidate will be responsible for verifying accurate measurement of all gas meters as well as ensuring gas is safely and efficiently moved from the well pad to sales meter. This position will report directly to the EFAT Measurement Supervisor, and is expected to work with existing measurement team, production data, and operation personnel to insure compliance with Marathon's gas measurement policy. Candidates must be able to work in a fast-paced environment independently, and possess excellent organization, written, and communication skills. This position requires an employee to perform assignments in all weather conditions, work extended hours, weekends, callouts, and travel as needed.
Responsibilities:
Ensure all gas meter calibrations and sampling schedules are completed as assigned.
Ensure thoroughness and integrity of the meter calibration process, orifice plates/meter tubes inspections, accuracy of documentation and EFM data.
Accountable for the daily operation, maintenance, troubleshooting, and inspection of gas measurement equipment.
Responsible for verifying and commissioning new meter install configurations prior to first flow.
Witness custody transfer meter calibration and sampling as required.
Work with operations and other teams to ensure all gas meter/communication issues are resolved effectively.
Review and resolution of system imbalances.
Work with gas measurement lead, SCADA, and field data group to resolve missing data issues.
Work with contract personnel in assigned area to ensure all gas measurement duties are completed as scheduled.
Maintain gas measurement calibration equipment and ensure it functions properly.
Maintain sampling or analysis equipment.
Minimum Requirements:
Education: High School Diploma or Equivalent
Experience:
Required to have 2+ years of gas measurement experience.
Requires experience with Total Flow, Fisher Roc, and Emerson flow computers.
Working knowledge of Orifice, Ultrasonic, and Coriolis meters.
Knowledge of electronic calibration equipment.
Proficient computer skills and ability to successfully use MS Office and measurement software.
Commitment to Marathon's Health, Environment, and Safety culture.
Certifications: None Required
Marathon Oil Corporation (NYSE: MRO) is an independent international exploration and production company. Based in Houston, Texas, the Company has activity in North America, Europe and Africa. The Company has three reportable operating segments, each of which is organized and managed based primarily upon geographic location and the nature of the products and services it offers.
Marathon Oil is an Equal Opportunity Employer.
If you are a current Marathon employee please use the ERP website to submit referrals.