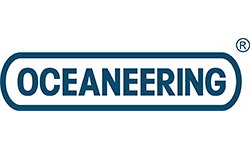 Company Profile
Oceaneering is a global oilfield provider of engineered services and products primarily to the offshore oil and gas industry, with a focus on deepwater applications. Through the use of its applied technology expertise, Oceaneering also serves the defense and aerospace industries. Oceaneering's business offerings include remotely operated vehicles, built-to-order specialty subsea hardware, deepwater intervention and manned diving services, non-destructive testing and inspections, mobile offshore production systems, and engineering and project management.

Duties & Responsibilities
The Project Manager plans, directs, and coordinates activities of a single or multiple projects to ensure that goals or objectives of project are safely accomplished within prescribed time frame and funding parameters and the customer receives a quality product or service which meets or exceeds all of the customer requirements.

Position requires participation in a "Field Orientation Program" to familiarize employee with operational practices and equipment. This may require overseas and/or offshore travel.

Assists in system configuration and costing of the system and components during the bid stage. Sets up and monitors project budget. Assists customer in preparation of design ideas and specifications. Conducts presentations and assists with sales and marketing activities. Maintains customer communication from conception through design, manufacture, testing and shipping of products. Prepares, reviews and approves quality plans and technical procedures. Reviews project proposal or plan to determine time frame, funding limitations, procedures for accomplishing project, staffing requirements, and allotment of available resources to various phases of project. Prepares project reports, forecast, variance explanations and other technical and financial reports for management, client, or others. Reviews and approves all detail designs, calculations, drawings, specifications, ECN's and all documents related to meeting customer specifications.

Travels domestically and overseas.

Qualifications

BS in Engineering, and/or extensive industry experience; Five (5) to ten (10) years related experience and/or training. Experience in Pneumatic, Hydraulic, and Electrical Logic. Offshore / oilfield operational experience desired. Must hold/maintain a valid passport and be willing to travel.

To perform this job successfully, an individual should have excellent working knowledge of Microsoft Word, Excel, and Powerpoint. They should also be able to learn and navigate in PeopleSoft or similar enterprise management software, AutoCAD®, SolidWorks, Product Lifecycle Management (PLM) and Customer Relationship Management (CRM) software.

Equal Employment Opportunity
As set forth more fully in the Company's Equal Employment Opportunity Statement, Oceaneering is an equal opportunity employer.

This Position Is Closed to New Applicants
This position is no longer open for new applications. Either the position has expired or was removed because it was filled. However, there are thousands of other great jobs to be found on Rigzone.
Similar Jobs Currently Available