Welcome to the Rigzone Events Calendar

The Rigzone Events Calendar is your most comprehensive source for conferences, tradeshows, professional meetings, and social events in the upstream oil and gas industry.
Industry Events by Month
Aug 10 - Sep 10
Expandable Technology Forum (ETF)
Hilton Southwest Hotel, Houston, US
The objective of the network is to increase awareness of expandable tubular technology throughout the industry and develop the market for expandable tubular products through discussion of products and applications.
Sep 4
Attract, Train, Retrain - Pipeline to Success
Copthorne Hotel, Aberdeen, UK
Aiming to engage the regionís young professional talent pool with top decision makers from different industries, its inaugural discussion hopes to equip young professionals with the best advice to help bridge the oil and gas industryís skills gap. A panel of industry experts will be taking questions & there will be a keynote speech from Fergus Ewing
Sep 9 - Sep 10
International Forum on Group V (non buoyant) Oils
Detroit/Wayne County Port, Detroit, US
Spill response issues concerning sinking oils. Industry, regulators, spill response experts presenting latest information and best practices available. Presented by The International Spill Control Organization. Endorsed by the USCG, NOAA and OSG.
Sep 9 - Sep 10
International Forum on Group V Heavy Oils
Detroit Port Authority, Detroit, US
The International Spill Control Organization presents the Forum on Spill Response Issues related to Group V and Heavy Oils which potentially sink when spilt. Leaders from NOAA, USCG, EPA and Industry meet to discuss and exchange best practices, current trends and the latest recovery and containment equipment in the response to sinking oil.
Sep 27
Global Oil and Gas Leadership Awards
Hilton Park Lane Hotel, London, UK
This is the premier awards event for those in the oil and gas industry. Please visit our website. We hope to see you in September!
Featured Training Provider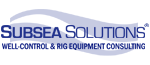 Subsea Solutions has spent over 2 years developing a ground breaking training course that redefines the classroom learning experience.