Welcome to the Rigzone Events Calendar

The Rigzone Events Calendar is your most comprehensive source for conferences, tradeshows, professional meetings, and social events in the upstream oil and gas industry.
Industry Events by Month
Featured Events
Mar 12 - Apr 30
Fundamentals of FPSOs
By distance learning, By distance learning, UK

Enrol onto this highly popular course which thoroughly explores the design, technology, commercial aspects, project management and operation of Floating Production, Storage & Offloading systems. The training is also recognised by the Royal Institution of Naval Architects for CPD.
Apr 2 - May 2
Fundamentals of Subsea Engineering
N/A -by distance learning, N/A -by distance learning

This 12 week popular and unique subsea engineering distance learning course from IBC Academy introduces all major aspects of the processes, technologies and systems involved in subsea oil and gas production, examining the building blocks of subsea engineering, including the key components, flow assurance, reliability and maintenance.
Apr 14 - Jul 30
Fundamentals of Oil & Gas by distance learning
By distance learning, By distance learning, UK

Whether your focus is in technical, non-technical or commercial functions in the sector, it is essential to refine your industry knowledge and prepare you for the next step in your career success. Being studied over 6 focused modules, in 12 weeks by part-time tutor supported distance education, the course starts on 14th April 2014.
Apr 14 - Apr 17
Engineering of flexibles
Hilton Houston Westchase, Houston, US

This course gives an expert level of understanding of flexible risers and flowlines. The course offers the skills required to write accurate specifications for flexibles, and enable understanding of how the different wire profiles affect the performance of a flexible,as well as how flexibles are affected by installation and operational loads.
Apr 15 - Apr 17
Subsea 101 / An Introduction to Well-Control Equipment and Subsea Systems
Subsea Training Solutions, Houston, US

You're invited to our next monthly educational course - Subsea 101 for our Operator clients. It's a great opportunity to learn or refresh your knowledge, keeping you focused with our visual aids, 3D Models and a very engaging instructor. For additional information, please contact us at training@Subseasolutions.net.
Apr 22 - Apr 24
Subsea 102 / MUX BOP Control Systems
Subsea Training Solutions, Houston, US

We would like to invite you to participate in our MUX BOP Control Systems course. The purpose of this course is to give participants a general overview of MUX BOP Control Systems and its components. The highlight of the course is the last day when participants will get a chance to troubleshoot using our brand new simulator.
Apr 23 - Jul 30
Fundamentals of Offshore Field Development
By distance learning, By distance learning, UK

Over 12 weeks, and by part-time study via online distance learning, this highly vocational Offshore Field Development programme explores the stages involved in offshore oil and gas production and the vessels supporting it; from exploration and surveying to drilling, construction and supply. The course commences 23rd April 2014.
Apr 29 - Apr 30
Liquefied Natural Gas Markets: A Big Risk or a Timely Opportunity?
Roosevelt Hotel, New York City, US

Do you understand what's coming and the inherent risks and opportunities the LNG market evolution offers? In this seminar you will learn the technical, economic, regulatory, and global market details that will help you identify and evaluate LNG risks and opportunities.
Apr 29 - May 2
Installation calculations for subsea pipelines
Aberdeen, Aberdeen, UK

This is a highly technical course providing detailed knowledge of subsea pipeline installation calculations required for all stages of a pipeline's lifecycle from pipe-lay to abandonment and recovery.
Apr 29 - Apr 30
FPSO Topsides Design and Layout
etc. Venues, Dexter House, London, UK
Join us for the 2nd Annual FPSO Topsides Design and Layout in London. Gain insight from Hamworthy Combustion, Norwegian Oil Industry Association and Crondall Energy. This seminar offers essential training for all personnel involved with the design, engineering and commissioning of FPSO topsides.
Apr 29 - May 2
Subsea hardware
Houston, Houston, US

This course gives a comprehensive and complete understanding of the equipment used in subsea production systems. Each piece of equipment is covered in detail, explaining the evolution of design, current best practice and the differences between each proprietary design.
More Events
Mar 31 - Apr 18
MWD training
Benchmark Petroleum, Houston, US
$3000 for course, at Benchmark, IADC member, Theory of operations, Identify MWD components and take inventory of tools, Couple both downhole tools and surface equipment, Program, Diagnose and Test MWD tools, Perform Roll Test, Tap Test and TFO, Read and interpret Downhole data, survey, rig up/ down of tools and perform troubleshooting of MWD tools
Mar 31 - Apr 19
Pre Employment Floorman Roughneck for Land and Offshore Drilling Rigs
150 Peppett Street, North Sydney, Nova Scotia, Canada
20-Day Training Program which include: Roughneck Certification, HSE Rig Pass, IADC WellControl, Hoisting & Rigging, Confined Space Entry, Fall Protection & Scaffolding, First Aid & CPR, H2S, Forklift Operator, OHS,HAZMAT/WHMIS, Basic Fire Safety. Course delivered with classroom and hands-on training on our drilling rig. Program cost CDN $5000.00 includes accommodations.
Apr 14 - Apr 18
ASME Pipeline Training Week
Double Tree By Hilton , Denver, US
Five Days...Ten Courses...Expert Instructors! Enhance your technical skills and learn from recognized experts in pipeline engineering, by attending the 2014 ASME Pipeline Training Week, in Denver, Colorado. Choose from 10 courses spanning a wide range of critical pipeline specialty areas.
Apr 15 - Apr 17
PHA Leadership Training Course
7600 W. Tidwell Road, Houston, US
This course is designed to provide students with guidelines for facilitating PHA studies. Students will learn technical and managerial procedures. Additionally, students will form study teams and will take turns leading the PHA facilitation. The instructor will supervise the workshop and will provide feedback to each student. This course is not a software training course.
Apr 21 - Apr 25
Stuck Pipe Prevention and Fishing
Istana Hotel, Kuala Lumpur, Malaysia
This course emphasis the prevention of stuck pipe. The team concept is used throughout the course, explaining the contribution and value of every crew member in the goal of keeping the pipe free. With your data, courses can be customized, and past stuck pipe incidents can be analyzed to determine what was done incorrectly and where techniques can be improved. Everyone will gain an excellent experience through the discussion and solving the cases histories more than 40 cases.
Apr 21 - Apr 25
Flow Assurance for Oil and Gas Production Systems
Sheraton Imperial Hotel, Kuala Lumpur, Malaysia
This course will cover potential challenges to pipeline operation including: surge, hydrate formation, wax deposition, multiphase fluids, and slugging. The causes of these issues, design solutions and subsea operational will be an intergral part of the course.
Apr 28 - May 2
ABB's SIL Determination and Hazard Assessment Training
ABB Conference Center, Houston, US
This five day course is designed for those who need to understand the causes and sequence of failure that can lead to significant hazardous events occurring and be able to identify the key contributors to the level of risk - to people, business or the environment.
Apr 28 - Apr 30
API Q1 9th Edition Update Seminar
Copthorne Hotel Gatwick, Gatwick, UK
The unique API official / authorized Q1 9th Edition Seminar presented by the only 2 European API-U (API University) qualified Trainers / Lead Auditors with over 45 combined years of QA / QC experience. All delegates completing the 3 day course are issued with a digital & signed API certificate of course completion.
Apr 28 - May 2
Safety Integrity Level (SIL) Determination and Hazard Assessment
ABB Conference Center, Houston, US
Management of risk and demonstration of risk reduction measures are increasingly important in industry. This can be relevant to compliance with aspects of legislation, such as COMAH, OSHA, EPA and in the application of standards such as IEC 61508 and IEC 61511. Understand the causes and sequence of failure that can lead to hazardous events.
Featured Training Provider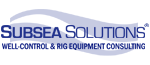 Subsea Solutions has spent over 2 years developing a ground breaking training course that redefines the classroom learning experience.