Welcome to the Rigzone Events Calendar

The Rigzone Events Calendar is your most comprehensive source for conferences, tradeshows, professional meetings, and social events in the upstream oil and gas industry.
Industry Events by Month
Featured Events
Nov 11 - Dec 23
Fundamentals of Oil & Gas Agreements
Online- distance learning, Online- distance learning, UK

Starting with the contracts involved in seeking and gaining authorisation, the syllabus progresses through the field project lifecycle to examine joint operating agreements and contracts used in the exploration and appraisal phase. Agreements relating to the production and sale of oil are explained, as are the contracts governing the abandonment and decommissioning of a field at the end of its life.
Nov 17 - Dec 31
Fundamentals of Pipeline Engineering, Construction & Operations
N/A - online , N/A - online

Relevant for both onshore and offshore pipelines, this 12 week online distance learning course equips you with a multidisciplinary understanding of pipelines and enables you to study the full cycle of pipeline engineering without having to take time out the office.
Dec 1 - Jan 12
Fundamentals of Petroleum Engineering
N/A - online, N/A - online

This 12 week course explains the engineering principles which underpin the upstream oil and gas sector. Anyone working in exploration and production will benefit from this programme which delivers core foundation knowledge of the technology and processes involved.
Dec 3 - Jan 14
Fundamentals of Oil & Gas Production Engineering
By distance learning, By distance learning, UK

After laying a foundation of essential geological and reservoir engineering principles, this distance learning course comprehensively examines the components of production systems before focusing on the techniques employed to maximise petroleum extraction, including flow assurance, well stimulation and artificial lift methods. Starts 3rd Dec 2014.
More Events
Aug 1 - Dec 31
Basic Spill Response Training
London, UK
An introduction to spill control essential for any facility that is looking to implement an Environment Management System (EMS), apply Pollution Prevention Guidelines (PPG) or simply desire better understanding of environment issues and solutions. Time required: 2 hours Dilivery Method Webinar based or Client Location Fee: £250 per head
Dec 29 - Dec 30
Training: 2-Day Banksman / Flagman (LOLER optional)
NSL Training Centers, Houston & Broussard, US
This course is designed to give delegates theoretical and practical experience in basic slinging practices and controlling crane operations. This course is aimed at Banksman / Flagman / Riggers, Crane Operators, Deck Crew, Roustabouts, Drill Floor Crews and others involved in crane operations.
Featured Training Provider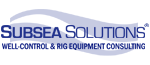 Subsea Solutions has spent over 2 years developing a ground breaking training course that redefines the classroom learning experience.