Welcome to the Rigzone Events Calendar

The Rigzone Events Calendar is your most comprehensive source for conferences, tradeshows, professional meetings, and social events in the upstream oil and gas industry.
Industry Events by Month
Featured Events
Sep 29 - Oct 31
Transnational Oil, Gas and Energy Law by online learning
by online learning, by online learning, UK

LLM, Postgraduate Diploma or Postgraduate Certificate by University of Derby Online Learning. Focuses on the practical aspects of oil & gas law & is set in the broader context of contemporary energy regulation, law & policy. Develop a deep understanding of how to resolve the challenges posed by national authorities to oil, gas & energy production.
Oct 1 - Nov 12
Fundamentals of Subsea Engineering
N/A -by distance learning, N/A -by distance learning, UK

This popular and unique subsea engineering distance learning course from IBC Academy introduces all major aspects of the processes, technologies and systems involved in subsea oil and gas production, examining the building blocks of subsea engineering, including the key components, flow assurance, reliability and maintenance.
Oct 7 - Nov 18
Fundamentals of Oil & Gas
By distance learning, By distance learning, UK

Whether you are new to the industry or a seasoned operator, everyone states that this course is packed with vital learning and that they reap rewards from studying this programme – and as it's delivered by flexible tutored distance learning it's ideal for busy professionals.
Oct 15 - Nov 26
Fundamentals of Offshore Field Development
By distance learning, By distance learning, UK

Over 12 weeks, and at the pace you set yourself, this practical distance learning programme thoroughly explores the stages involved in offshore oil and gas exploration, surveying, drilling, construction and production plus the marine assets supporting it. Starts 15th October 2014 and 15th April 2015. Don't delay!
Oct 20 - Dec 1
Fundamentals of Petroleum Economics
N/A - by distance learnin, N/A - by distance learnin

The A to Z of upstream, midstream and downstream cash flow components, indicators, risk management, decision analysis and valuation in the oil and gas industry, all delivered over 12 weeks of part-time online study.
Oct 27 - Oct 31
Surface Facility Production Operations
Calgary, Alberta, Canada
This course will provide participants with the fundamental and principles of production fluid behavior, conditioning, and processing from the wellhead to custody transfer. The participants will learn oilfield production handling at the surface, the treatment equipment, and the processes.
More Events
Oct 11 - Dec 11
Power Cables for Offshore Oil & Gas
Kensington Close Hotel, London, UK
Attend to examine prospects for the oil and gas cables market and receive technical updates on the next generation of offshore cabling projects. Benefit from a carefully tailored combination of commercial analysis, technical insights and operational guidance.
Oct 13 - Nov 1
Pre Employment Floorman (Roughneck) Training for Land and Offshore Drilling
Energy Training Centre, North Sydney, Nova Scotia, Canada
20 Day Pre-Employment Floorman/Roughneck training. Certifications: Roughneck Certificate (IADC) WellCAP® Well Control Accreditation for Introductory Level Drilling, Workover and Completions;(IADC) HSE RigPASS with offshore endorsement : Confined Space Entry; Fork Lift Operator ; WHMIS/ HAZMAT ; Basic Fire Safety ; H2S Alive or H2S Awareness ; Occupational Health & Safety ; Standard First Aid & CPR ; Hoisting and Rigging ; Fall Protection & Scaffolding.
Oct 27 - Oct 31
Acquisition and Interpretation of Open Hole Logs
Kuala Lumpur, Kuala Lumpur, Malaysia
The course presents the principles underlying the measurement of various properties of rock sequences penetrated in boreholes and covers the qualitative and quantitative interpretation of the data obtained through examples and practical workshop sessions. It also covers the most recent advances in log data acquisition technology.
Oct 27 - Nov 20
IADC HSE Rig Pass $199, MWD $3995
Benchmark Institute, Houston, US
Upcoming classes IADC HSE Rig Pass $199, MWD $3995, Directional Drilling $6995, Overview of Oil and Gas $995, Floorhand $1995, Tel: 713-400-7815 Web: www.bmpti.com
Oct 29 - Oct 31
Rig Engineering Fundamentals
Kapetanios Odyssia Hotel, Limassol, Cyprus
This course introduces the techniques and technologies involved in oil well drilling, the field equipment practices, difficulties and actions to be taken in oil and gas exploration and production, and fundamental equations and calculations used in drilling engineering.
Oct 31 - Nov 27
IADC HSE Rigpass $199, Oct 31, MWD $3995, Nov.3
9301 SouthwestFreeway320, Houston, US
IADC HSE Rigpass $199, one day training with certification, Oct 31, MWD $3995, Two week program, Nov.3, Call 713-400-7815 www.bmpti.com
Featured Training Provider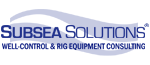 Subsea Solutions has spent over 2 years developing a ground breaking training course that redefines the classroom learning experience.