Welcome to the Rigzone Events Calendar

The Rigzone Events Calendar is your most comprehensive source for conferences, tradeshows, professional meetings, and social events in the upstream oil and gas industry.
Industry Events by Month
Featured Events
Sep 28 - Oct 1
Process Safety Implementation Summit 2014
Rosewood, Abu Dhabi, UAE
As the majority of regional NOCs' and IOCs' PSM programmes are at the various stages of implementation, the 6th edition of PSM Summit will be dedicated to offering insights on how to measure, track and continue to improve process safety strategies across the organisation and how to further align all the functions within towards a cohesive and prioritised safety culture. For more information or to register email enquiry@iqpc.ae
Oct 1 - Oct 2
SPE Breaking the Cycle of Discrimination—Workplace Challenges in the Oil and Gas Industry
Norwood hall Hotel, Aberdeen, UK
The oil and gas industry is currently facing real social workplace challenges which "Breaking the Cycle of Discrimination—Workplace Challenges in the Oil and Gas Industry" is aiming to debate and address, ultimately identifying potential solutions to making the industry a more inclusive workplace.
Oct 7 - Oct 9
4th Annual NG Downstream Summit
Dorint Park Hotel, Bremen, Germany
The NG Downstream Summit EMEA will bring together senior decision makers from across the refining, petrochemical, pipeline and LNG sectors to discuss the Challenges and Opportunities for the Industry. Discussions at the gathering will be built around the following three key themes: • Refining Initiatives and Innovation • Engineering, Technology and Monitoring • Operations Management. For further information, please contact Ben Williams, Summit Director, on ben.williams@gdsinternational.com
Oct 14 - Oct 16
Offshore Technology Days 2014
Sotra Arena, Bergen, Norway

OTD2014 BERGEN is a multifaceted event for continuous learning and showcasing, with innovation, solutions and tools required to succeed in the accelerating technology race in this increasingly complex business.
Oct 20 - Oct 21
Offshore Support Vessel Conference
Hotel Continental, Oslo, Norway

What's different for 2014? - More oil and gas company and shipowner input than ever before - insights from STATOIL, BOURBON, DOF, EIDESVIK, VIKING SUPPLY SHIPS, and K LINE OFFSHORE - Even more international content covering Mexico, Africa, Russia, and more - Fun and creative session formats: Geo-focused strategy labs, the rapid fire technology showcase and more
Oct 20 - Oct 21
Offshore Drilling Forum
Scandic Stavanger Forus, Stavanger, Norway

Strategic discussions and technical solutions to enhance productivity and streamline operations Receive expert briefings on drilling unit demand across key regional hotspots and examine new rig designs and advanced technologies that are streamlining processes and driving access to new frontiers.
Oct 22 - Oct 23
Best of the Best and Client forum - RLG International
Marriott Hotel & Conventi, The Woodlands (Houston) , US

Project Excellence Capturing Maximum Performance on Your Projects Through Improved Planning, Optimization and Execution Participation from industry leaders including: ConocoPhillips, Boeing, BP, LaFarge, Chevron Phillips Chemical, American Airlines, hess, rowan, Shell. Join us October 22-23, 2014
Oct 27 - Oct 30
Floating LNG USA
Houston, Houston, US

Join 140+ attendees from across the FLNG value chain to debate how to overcome the key challenges as the industry moves towards FLNG delivery. Hear form 40+ speakers including players at the heart of recent developments including: KBR, LONESTAR FLNG, EXMAR, EXCELERATE ENERGY, HÖEGH FLNG, MITSUI O.S.K BULK SHIPPING and more!
Oct 27 - Oct 29
NG Downstream Summit
Barton Creek Resort, Austin, US

The NG Downstream Summit US will take place on the 27th – 29th October 2014 at the Barton Creek Resort in Austin Texas. The summit will bring together senior downstream executives from across the region for a series of workshops, case studies and high-level networking.
Oct 27 - Oct 29
SPE Annual Technical Conference and Exhibition (ATCE)
RAI Centre, Amsterdam, Netherlands

ATCE is renowned for its superb technical content and offers: 400+ peer-selected papers covering current applications and future technologies 300+ exhibitors showcasing the latest technologies, new product launches, and valuable industry services Pre- and post-conference training courses, networking events, and activities for students and YPs
Oct 30 - Oct 31
The Future of Data Security and Information Management
The Hilton, Amsterdam, Netherlands

With multiple operators, standards and approaches currently under consideration, as well as many of the critical constituents not setting the same expectations on our future, this workshop will provide a forum to develop a consistent understanding on how to best secure an industry approach.
More Events
Jul 4 - Oct 4
Saint Petersburg 2014
Congress center Park Inn, St. Petersburg, Russian Federation
The 6th Saint Petersburg International Conference & Exhibition is an initiative by European Association of Geoscientists and Engineers (EAGE). It is the largest geoscience event in the Russian Federation. The conference is organized bi-annually in Saint Petersburg, Russia.
Sep 29 - Oct 2
15th Annual FPSO World Congress
MAX Atria @ Singapore Exp, Singapore , Singapore
The FPSO Congress is the world's largest platform which gathers senior and key stakeholders from oil companies, vessel contractors, financiers, legal firms, shipyards, EPCs and solution providers together over 4 days annually to discuss the latest trends, projects and opportunities in the market.
Sep 30 - Oct 2
Offshore Patrol Vessels
Radisson Blu Royal Hotel, Dublin, Ireland
Introducing the International Offshore Patrol Vessels conference of 2014, enabling cost-effective solutions for offshore asset protection and enhanced maritime security. Time: 8:00 am - 5:00 pm Price: EUR 1435 - EUR 2699
Sep 30 - Oct 1
15th FPSO World Congress 2014
MAX Atria, Singapore Expo, Singapore, Singapore
Experiencing exponential and unprecedented growth from previous years, the FPSO Congress this year celebrated 14 years of service in style, reinforcing its position as the world's largest meeting place for the FPSO community.
Oct 1 - Oct 2
OKC Oilfield Expo
Cox Convention Center, Oklahoma City, US
The 2014 OKC Oilfield Expo will take place October 1-2, 2014 at the Cox Convention Center in Oklahoma City, OK. This expo is an industry-exclusive trade show focused on creating a professional atmosphere where oilfield professionals from Oklahoma and beyond can gather, network, view the latest technology, compare hundreds of service and equipment
Oct 1 - Oct 2
Black Hills Bakken & Investor Conference
Convention Center, Spearfish, South Dakota, US
''Must-attend'' event for investors and business owners interested in energy and the Bakken region of North Dakota.If you're an investor or entrepreneur, you do not want to miss this event. Opportunity is knocking! Be prepared to do business. Multi-million dollar deals will be made at this conference.
Oct 5 - Oct 8
AIPN 2014 International Conference
Kempinski Hotel Corvinus, Budapest, Hungary
The Conference program will cover various topics including trends and challenges in exploration, exploitation of unconventional resources, community relations, security of supply & physical protection of assets. The conference will also explore recent developments in the legislative frameworks governing the licensing of and access to hydrocarbons.
Oct 6 - Oct 8
3rd International Conference and Exhibition on Materials Science & Engineering
San antonio, San antonio, US
3rd International Conference and Exhibition on Materials Science and Engineering provides a perfect symposium for scientists, engineers, directors of companies and students in the field of Materials Science and Nanotechnology to meet and share their knowledge.
Oct 6 - Oct 7
Opportunities for Oil & Gas Exploration in the Barents Sea
ST. ERMIN'S HOTEL, London, UK
Join over 60+ exploration, new ventures and geology specialists at the only conference focused exclusively on this new frontier. Hear proven success stories from key operators in the Barents Sea including Statoil, Lundin Norway and E.ON E&P. Gain new insights to harness the untapped potential of new discoveries and technological advancements.
Oct 6 - Oct 7
North America Assembly
Four Seasons Hotel (Downt, Houston, US
One of the fastest growing oil and gas events in the US, North America Assembly welcomes over 500 delegates including directors, CEO's and presidents to discuss the business of oil, gas, investment and finance.
Oct 6 - Oct 8
VTEC Global
Lone Star Conference Cent, Houston, US
Vocational Education and Technical Training Event for the Oil & Gas Industry
Oct 6 - Oct 9
MEXICO UPSTREAM: Contracts and Deepwater Summit
St Regis Hotel, Mexico City, Mexico
In light of exciting Energy Reform in Mexico, CWC, PEMEX and the CNH invite you to the launch of the MEXICO UPSTREAM: Contracts and Deepwater Summit - the official platform for defining the future direction of Mexico's hydrocarbons industry.
Oct 6 - Oct 7
Chemical Engineering for Non-Chemical Engineers
Best Western Village Park, Calgary, Canada
Chemical Engineering is a branch of engineering that is involved in design, operation and management of different plants and factories. Category: Classes URLs: Booking: http://atnd.it/14945-0 Inquiries: http://atnd.it/14945-1 Artists: Dr Fares Almomani P.Eng. Price: CAD 134 - CAD 995
Oct 7 - Oct 8
Supply Chain Strategy Oil and Gas
One Whilehall Place, London, UK
Oil and Gas Supply Chain Strategy 2014 is a conference designed for supply chain and procurement executives at IOCs, NOCs, independent oil companies and tier one service companies as they work to improve integration, collaboration and efficiency across their supply chains. Please download the agenda here: http://wbresear.ch/rigagen
Oct 7 - Nov 7
The 3rd Deepwater Asia Congress Indonesia 2014
Jakarta, Jakarta, Indonesia
Also new for 2014, Deepwater Asia Congress, Indonesia is organizing an opening panel discussion that promises to engage lively debate. Panelists are scheduled to discuss Indonesia deepwater development potential and how to optimize the deepwater project operation. For more info, please contact us at info@szwgroup.com
Oct 13 - Oct 16
The 2014 API Tanks, Valves, and Piping Conference & Expo
Caesars Palace, Las Vegas, US
Celebrating it's 20th year, the API Storage Tank Conference is combining forces with a new API conference: API Valves and Piping Conference. Combined these two events October 15-16, 2014, will give attendees an opportunity to learn about new and existing industry codes and standards, and to hear about emerging trends from industry experts.
Oct 14 - Oct 15
Shale Water Expo 2014
The Stafford Centre, Stafford, US
The first national fluids-specific conference and exposition for the oil & gas industry. Hosted by Shale Play Water Management magazine, the event features water sourcing, logistics and reuse success stories from industry leaders, technical insights from experts and 25,000 sq. ft. of equipment exhibits.
Oct 14 - Oct 16
Asia Pacific Oil & Gas Conference & Exhibition (APOGCE)
Adelaide Convention Ctr, Adelaide, Australia
SPE's regional flagship technical event returns to South Australia this October with an excellent platform for networking, discussions of pertinent issues in the energy industry, and sharing of breakthroughs, technical knowledge and best practices.
Oct 14 - Oct 16
Produced Water Management 2014
Marmara Taksim, Istanbul, Turkey
Produced Water Management 2014 aims to discuss important issues pertaining to Water Treatment, Re-injection and Discharge. The workshop brings together Oil Operators & Solutions Providers from the Middle East, Europe & Asia-Pacific. Attending organizations include NASA, Saudi Aramco, Qatar Petroleum, Total, Shell, KOC, Pertamina, Cairn India & more
Oct 15 - Oct 17
Oil & Gas Myanmar 2014
Myanmar Convention Centre, Yangon, Myanmar
Oil & Gas Myanmar 2014 is a comprehensive showcase of petroleum geosciences, exploration & production and refining products and services for the Myanmar natural gas and hydrocarbons industries. The event will bring together industry professionals and experts from independent, international and national Oil & Gas companies.
Oct 15 - Oct 17
The 3rd East Africa Oil and Gas Summit Exhibition
KICC, Nairobi, Kenya
EAOGS is firmly established as the most prestigious oil and gas conference and exhibition in East Africa. Now in its 3rd year EAOGS once again has the official endorsement of the Ministry of Energy & Petroleum Kenya and this year EAOGS will build on the success of the 2013 Summit which welcomed over 350 delegates from 200 regional and international companies and 30 different countries.
Oct 16
Offshore Executive Conference: Gulf of Mexico
The Westin Memorial City, Houston, US
Together with its E&P magazine, and Subsea Engineering News (SEN) and Deepwater International newsletters, Hart Energy has developed the Offshore Executive Conference: Gulf of Mexico to provide an annual forum for senior-level offshore oil and gas executives to discuss major activities throughout the Gulf.
Oct 17 - Oct 19
2014 People in Energy
The Houstonian Hotel, Houston, US
About the 5th Annual People in Energy Summit Oil and gas companies have increasingly relied on complex data to delve into the Earth's geology and find energy resources thousands of feet below the surface. They have turned to numbers when analyzing prospective acquisitions. For more info contact us: info@the-tma.org 888-339-9599 x501
Oct 20 - Oct 21
Mexico Oil & Gas Summit 2014
Mexico City, Mexico City, UK
The Mexico Oil & Gas Summit 2014 will take place in Mexico City on the 20th & 21st of October. The event will be co:hosted with the Mexico Power Summit 2014. The event is perfectly timed to coincide with legislation developments and updates to the oil and gas law in Mexico. It is anticipated that systemic government led changes will boost investment
Oct 20 - Oct 21
The Mexico Oil and Gas Summit 2014
Mexico City, Mexico City, UK
Oliver Kinross will be hosting the Mexico Oil and Gas Summit co-hosted with the Mexico Power summit and the Mexico energy Industry awards in Mexico City 20th - 21st October 2014. The event will provide professionals within the industry the unique opportunity to discover the latest achievements within the energy market in Mexico and to discuss possible future developments following the energy reforms.
Oct 21 - Oct 22
FITECH 2014
IQPC, 129 Wilton Road, London, UK
FITECH 2014 is the only event offering comprehensive, impartial insight into hi-tech Finance transformation. Price: Standard Vendor/Solution Provider: GBP 2299, Standard End User: GBP 1899 Time: 09:00 - 17:00
Oct 21 - Oct 23
FLNG Asia Pacific Summit
Sheraton Seoul D Cube Cit, Seoul , South Korea
FLNG Asia Pacific 2014 will deliver the key stakeholders from oil operators, shipyards, EPCs, financiers and consortium-based teams in an unprecedented and interactive format—the FLNG roundtables.
Oct 21 - Oct 22
2nd Annual Global Gas Opportunities Summit
Istanbul, Istanbul, Turkey
Turkey as a strategically located country serves as the energy transit route to supply between Asia & Europe. Discovery of several storage capacities in and around Turkey have paved way for a number of investors and will open doors going further. Global Gas Opportunities Summit to be held in Istanbul, Turkey on 21 - 22 October 2014 will gather global experts and delve into issues like gas pricing, storage, re - export, pipeline infrastructure and related geo - politics & socio – economics.
Oct 21 - Oct 23
Middle East Steel Conference for Oil and Gas (MESC 2014)
Intercontinental Hotel, Dubai, UAE
MESC 2014 will provide an excellent opportunity for regional and international steel producers and related services companies on steel protection and product technology, to connect, network and discuss how to develop innovative ideas and industry solutions that address the growing needs of the oil and gas industries.
Oct 21 - Oct 23
PBIOS-Permian Basin International Oil Show
Ector Co. Coliseum, Odessa, US
The world's energy needs are escalating day by day. You need answers to today's production and pipeline challenges to make sure that every penny counts in the Oil Patch. Maximizing the ROI is more important than ever to keep our industry vital and vibrant. You simply can't afford to miss this year's show.
Oct 26 - Oct 30
Nebosh Iogc
Movenpick Tower and Suite, Doha, Qatar
This qualification is designed specifically for those with safety responsibilities. It is the latest addition to our portfolio of globally-recognised health, safety, environmental and risk management.
Oct 27 - Oct 28
5th annual Shale Gas Environmental Summit
Holiday Inn Regents Park, London, UK
This year's event will provide the ideal platform for various industry representatives including operators, environmentalists, campaigners, NGOs, academics and researchers to come together and discuss the environmental aspects of shale gas extraction and production. Other speakers will include the Environment Agency, Plexus Energy, UKOOG and more
Oct 27 - Oct 29
2nd World Congress on Petrochemistry and Chemical Engineering
Embassy Suites Las Vegas, Las Vegas, US
OMICS Group invites all the participants across the globe to attend 2nd World Conference on Petrochemistry and Chemical Engineering during October 27-29, 2014 at Las Vegas, USA.
Oct 27 - Oct 31
Singapore International Energy Week (SIEW)
Sands Expo and Convention Centre, MBS Singapore, Singapore, Singapore
The 7th annual SIEW 2014 is a week long platform that brings together the world's leading conferences, top policymakers, energy practitioners and commentators to provide insights and perspectives on the emerging trends and innovations across the energy spectrum of oil & gas, clean and renewable energy, and energy infrastructure financing.
Oct 28 - Oct 29
Exploration, Mining and Processing Fundamentals
Rivonia Rd, Sandton, South Africa
This course will provide a new or relatively new entrant into the mining industry with a clear understanding of the fundamentals, workings and technical components of mining in general, and its application in the African and global industry. Timing: 9:00 am - 5:00 pm. Price: $1,895 Venue Name: Radisson Blu Gautrain Hotel Sandton
Oct 28 - Oct 30
World Oil & Gas Corporate Security Forum
Double Tree, London, London, UK
The Corporate Security Forum is the leading event for Heads of Security of Oil and Gas Operators and Service providers. The programme will address current pressing security challenges, providing a unique opportunity to network and share insights on how to meet strategic performance and security objectives.
Oct 28 - Oct 30
European Autumn Gas Conference
Grange St Paul's Hotel, London, UK
The European Autumn Gas Conference 2014 will attract business leaders operating within Europe's gas supply chain who are looking to adapt and overcome the commercial, geopolitical and macro-environmental challenges of working in the region. These include government officials, regulators, upstream and midstream companies, utilities and traders
Oct 28 - Oct 30
CIS Oil and Gas Transportation Congress 2014
Parco dei Principi Grand , Rome, Italy
Over 16 years the CIS Oil and Gas Transportation Congress has been bringing together Presidents, CEOs, General managers, General directors from Russia, Kazakhstan, Ukraine, Belarus and EU countries to discuss the present and the future of the CIS oil and gas transportation market.
Oct 29 - Oct 30
Crude By Rail 2014
The Westin Galleria , Houston , US
North America's Leading End-User Driven Crude By Rail Event Bringing Together Stakeholders To Maximize Profitability From Wellhead To Refinery
Oct 29 - Oct 30
Oil & Money 2014
InterContinental Park Lan, London, UK
We are delighted to announce that Oil & Money 2014 will take place on October 29-30 at The InterContinental, Park Lane, London. Join the world's most influential decision-makers for two days of high-level discussion and debate on the crucial issues facing the international energy sector.
Oct 29 - Oct 31
OGTT 2014
Center Of Excellence, TRINIDAD, Trin. & Tobago
Trinidad & Tobago Oil, Gas and Petrochemical Expo and Conference Theme of Event - ''Technological Utilization Enhancing Energy Sustainability''
Featured Training Provider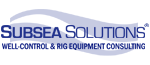 Subsea Solutions has spent over 2 years developing a ground breaking training course that redefines the classroom learning experience.