Industry Events by Month
Featured Events
Sep 6 - Oct 18
Certificate in Offshore Field Development
Distance learning, UK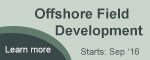 The Certificate in Offshore Field Development explores the stages involved in offshore oil and gas production, along with the specialist vessels supporting it, from exploration and surveying to drilling, construction and supply. The course delivers the detailed knowledge required, along with management strategies, for you to successfully engage in the sector.
Sep 12 - Oct 24
Certificate in FPSOs
Distance learning, UK

Our popular FPSO training course explores all aspects of Floating Production, Storage and Offloading systems. Delivered by tutored distance learning, the course explores the design, technology, commercial aspects, project management and operation and deployment of these important assets.
Sep 20 - Oct 31
Fundamentals of Petroleum Economics
Online learning,

The A to Z of upstream, midstream and downstream in the oil and gas industry - training course by tutored distance learning. Economic analysis, cash flow, risk analysis and valuation in the oil and gas industry. Your guide to making better petroleum investment decisions - over 12 weeks
Sep 27 - Sep 28
Introduction to the Canadian Oil Sands
City Center, Calgary, Canada

This 2-day course provides a comprehensive introduction to the Canadian oil sands industry. The sessions examine the entire industry value chain from subsurface resources through to the marketplace, and how the various segments of the industry interact. It is suitable for both technical and non-technical personnel.
Sep 27 - Sep 29
Subsea 102 / Introduction to BOP MUX Control Systems
Subsea Training Solutions, Houston, US

A three-day IADC accredited course that provides a solid comparison and contrast overview of systems, tracking the electrical-hydraulic signal logic and fluid flow sequences from initiation at the remote panel to stack end device actuations. Prerequisite: Subsea 101 and some electronics-electrical background. Course is delivered in our state-of-the-art 3D Training Center in Houston.
Sep 28 - Nov 10
Certificate in Marine Drilling
Distance Learning , UK

This popular professional development training explores the marine drilling sector as a central part of any offshore development, both in the exploration and production phases. The course delivers a comprehensive A-to-Z explanation of offshore drilling as part of the full subsea field development process.
More Events
Sep 12 - Oct 7
International Petroleum Management Certificate Program
Boston, US
For more than twenty years, participants have consistently called this "The BEST management program in the petroleum industry today!" The four-week program provides learning in four key areas and includes compelling lectures by a strong and diverse faculty, as well as team participation in IHRDC's unique and challenging oil and gas business games.
Sep 25 - Sep 29
API 936: Refractory Inspection
Dubai, UAE
Upon the successful completion of this course, each participant will be able to: - Prepare for the next API 936 exam and have enough knowledge and skills to pass such exam in order to get the API 936 certification - Perform the installation, repair, testing and inspection requirements of refractory systems
Sep 26 - Sep 28
SPE Annual Technical Conference and Exhibition (ATCE)
Dubai World Trade Centre, Dubai, UAE
Since the first edition 91 years ago,ATCE has attracted more than a half million of the E&P industry's greatest minds from around the globe. Reflecting our global industry, ATCE is becoming an increasingly important international event. SPE is proud to announce that ATCE will be held in the Middle East for the first time, in Dubai, UAE.
Sep 27 - Sep 29
5th Upstream & Downstream Oil and Gas Exhibition & Conference
Shehu Musa Yar'Adua Centr, Abuja, Nigeria
The 5th Upstream & Downstream Oil and Gas Exhibition & Conference now open for registration will attract over 2,500 International Exhibitors, Conference Delegates & Visitors from the EU countries.
Sep 27 - Sep 28
Introduction to SIL/SIS for Operations and Maintenance Technicians
ACM Facility Safety, Calgary, Canada
This 2-day workshop objective is to give Operations and Maintenance Technicians an understanding of "Functional Safety", and the relationship of Safety Instrumented System (SIS) with respect to process and operational related hazards.
Sep 27 - Sep 28
Natural Gas Wellhead to Burner-Tip
Alberta Innovates, Calgary, AB, Canada
Oak Leaf Energy Training is continuing to offer CERI's cornerstone course, first presented almost 20 years ago. Revised and fully updated, this comprehensive 2-day seminar is presented by Oak Leaf's veteran instructors — experts both in the field and in the classroom. The course gives the details about this ever-changing industry.
Sep 27 - Sep 28
2nd Annual Advanced Subsea Power and Heating Cables for the Oil and Gas Industry Forum
TBA, Oslo, Norway
The event is designed to gather the attendees in order to improve existing strategies and practices for Subsea Power and Heating Cables performance. The Forum provides innovative approach and cutting-edge knowledge for the process optimization, latest trends in cable technology, design and material, managing fatigue hotspots and life extension.
Sep 27 - Sep 28
Introduction to Corrosion and Microbiology
John Crane, Aberdeen, UK
The two day course is an introduction into the various forms of corrosion in production facilities and pipelines, with particular focus on its inter-relationship with microbial activity. Giving advice on mitigation and monitoring of corrosion and the financial and environmental aspects caused by lapsed maintenance regimes.
Sep 28 - Sep 29
Flexible and Cost Effective Well Site Facilities Onshore 2016
Houston, US
North America's Premier Event Specifically Dedicated To Ensuring Facility Flexibility And Facility Maintenance And Operation Cost Reduction
Sep 28 - Sep 29
3rd Unconventional Production & Well Site Facilities Design Onshore 2016
Houston, Texas, US
25+ case studies from oil & gas operators including Chevron, Pemex and Southwestern identifying the most efficient and sustainable systems and processes to optimize facilities design, construction and lifetime maintenance with more visible cost control throughout the facilities lifecycle.
Sep 29 - Sep 30
Platts 11th Annual Pipeline Development and Expansion
Hyatt Regency Houston, Houston, US
Network with industry executives discussing capacity and demand for pipeline infrastructure and hear the latest case studies on new pipelines planned in North America. Topics Planned for This Year: .Can EandP companies shed existing transportation contracts (usually with minimum throughput guarantees) with the site specific gathering systems
Sep 30
Introduction to Structural Integrity Management (SIM)
DNV GL office, Aberdeen, UK
This course explains the concepts behind structural integrity management (SIM), focusing on the North Sea experience of fixed offshore structures, but will also touch on floating structures and the approaches of other regions.