Rigzone tracks the worldwide offshore rig fleet through its proprietary RigLogix database, and we make some of the key rig fleet data available to you here. You'll find information on offshore rig utilization, day rates, contracts, equipment specs, and much more.
Worldwide Offshore Rig Utilization
Statistics for the primary segments of the competitive offshore rig fleet.
Month
Drillships
Jackups
Semisubs
October 2014
95
109
87.2%
372
444
83.8%
157
181
86.7%
September 2014
95
107
88.8%
370
443
83.5%
158
181
87.3%
August 2014
95
104
91.3%
376
442
85.1%
160
181
88.4%
July 2014
94
103
91.3%
367
438
83.8%
156
181
86.2%
June 2014
92
102
90.2%
362
436
83.0%
155
181
85.6%
May 2014
91
102
89.2%
366
432
84.7%
158
180
87.8%
FEATURED RIG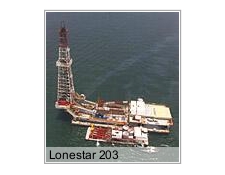 Lonestar 203
Manager: Lonestar Drilling Nigeria Ltd.
Location: Africa - West
SubseaIQ is focused on investigating and reporting on the latest field developments around the globe.
Learn More
RigLogix is a premium data service providing you with instant access to comprehensive offshore rig data covering the entire global fleet.
Learn More
Offshore Rig Search
Recent Offshore Rig Activity Notes Sample
Below is a sample of the 14 rig activity notes from the last week available to RigLogix subscribers.
November 17 |
Prospector 1
| 400 ft. Jackup
Paragon Offshore has acquired a stake equal to 93.5 percent of the outstanding shares in Prospector Offshore Drilling and will launch a mandatory offer for the remaining outstanding share of Prospector within four weeks. Paragon acquired the shares at a price of 14.50 NOK per share or $2.313 per share based on the US Dollar to Norwegian Kroner exchange rate of $1 US to 6.80 NOK. Prospector Offshore has a fleet of five high spec, harsh environment F&G JU-2000E designed jackup capable of working in every market except Norway. All units are rated to work in water depths up to 400 feet with a rated drilling depth of 35,000 feet. The first two rigs have been delivered are contracted to Total for work in the UK North Sea. The remaining three units are scheduled for delivery at intervals throughout 2015 and 2016.
November 19 |
COSLProspector
| 4,921 ft. Semisub
CIMC Raffles delivered the COSLProspector (DW semisub) to China Oilfield Services Ltd. This is the fourth in a newbuild program that began in 2005. Classed by DNV and CCS, the unit is designed to work in operating temperatures of minus 20 degrees Celsius in arctic areas such as the Barents and Norwegian Seas. The rig will now undergo acceptance testing which is expected to last into early 2015. COSL initially marketed this rig for work in the North Sea. However, with the slowdown in activity it appears that the rig will likely go to work offshore China.
November 17 |
ENSCO 109
| 350 ft. Jackup
Ensco's ENSCO 109 (350' ILC) is en route from Singapore to Angola. Upon arrival in Angola the rig will begin a three year contract with Chevron at a rate in the low-$170s.
November 18 |
ENSCO 5006
| 7,500 ft. Semisub
Ensco's ENSCO 5006 (DW semisub) is now expected to finish its shipyard stay at Keppel FELS in Singapore by mid-December. This means the commencement for the rig's 40-month contract with Inpex offshore Australia will now start in January 2015. The scope of work includes upgrades to the BOP, mud systems, living quarters and customer-requested upgrades.
November 18 |
Hercules 253
| 250 ft. Jackup
Hercules Offshore received a 30-day contract from Bois d'Arc for work in the Gulf of Mexico. Expected commencement is in early December following completion of the rig's current contract with Energy XXI. Dayrate for the contract is in the mid-$100s.
9 other rig notes were published last week that are only available to RigLogix subscribers.
Subscribe today to get them all in your inbox each Friday.