Rigzone tracks the worldwide offshore rig fleet through its proprietary RigLogix database, and we make some of the key rig fleet data available to you here. You'll find information on offshore rig utilization, day rates, contracts, equipment specs, and much more.
Worldwide Offshore Rig Utilization
Statistics for the primary segments of the competitive offshore rig fleet.
Month
Drillships
Jackups
Semisubs
September 2014
94
106
88.7%
371
450
82.4%
156
186
83.9%
August 2014
94
103
91.3%
378
449
84.2%
160
187
85.6%
July 2014
94
103
91.3%
370
445
83.1%
158
187
84.5%
June 2014
92
102
90.2%
365
443
82.4%
158
187
84.5%
May 2014
91
102
89.2%
369
439
84.1%
161
186
86.6%
April 2014
86
99
86.9%
371
435
85.3%
164
186
88.2%
FEATURED RIG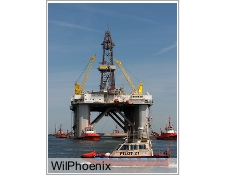 WilPhoenix
Manager: Awilco Drilling PLC
Location: Europe - North Sea
SubseaIQ is focused on investigating and reporting on the latest field developments around the globe.
Learn More
RigLogix is a premium data service providing you with instant access to comprehensive offshore rig data covering the entire global fleet.
Learn More
Offshore Rig Search
Recent Offshore Rig Activity Notes Sample
Below is a sample of the 27 rig activity notes from the last week available to RigLogix subscribers.
October 7 |
Cajun Express
| 8,500 ft. Semisub
Cairn Energy and its partners in Senegal's Sangomar Deep Block encountered a very substantial oil bearing interval with their FAN-1 exploration well. This discovery has the potential to be a standalone development and materially upgrades the prospectivity of the block. FAN-1 targeted multiple stacked deepwater fans reaching a TD of 16,165 feet encountering 95 feet of net pay of good quality oil (28 - 41 degree API) over a total gross oil column greater than 1,640 feet. The Cajun Express (UDW semisub) will now move to the SNE-1 exploration well, also on Sangomar Deep, to take it down to TD.
October 7 |
Norbe VI
| 8,000 ft. Semisub
Petrobras says logging data and fluid samples taken from their Pudim appraisal well confirm the presence of good quality oil. Testing was performed at a depth of approximately 11,646 feet. Petrobras will now take the well down to the planned TD of 14,764 feet. Drilling is being carried out by Odebrecht's Norbe VI (UDW semisub) in water depths of 6,187 feet. Well 3-BRSA-1253D-ESS is located in the Brigadeiro Discovery Evaluation Area in the Espirito Santo Basin. Shell and Inpex are partners in the well.
October 6 |
ENSCO 8503
| 10,000 ft. Semisub
Stone Energy has hired the ENSCO 8503 (UDW semisub) for 30-month term contract to work in the U.S. Gulf of Mexico. Commencement is expected during 2Q2015 after mooring upgrades have been made to the rig. Stone Energy also has the option to extend the contract for up to an additional 12 months. There is also a clause allowing Stone to shorten the primary term by up to six months, provided notice is given no later than March 31, 2015. Dayrate for the firm period is in the low-$350s.
October 9 |
Transocean Arctic
| 1,640 ft. Semisub
Lundin has commenced drilling operations on its Storm Prospect located on PL555 in the Northern North Sea. Drilling will be carried out using the Transocean Arctic (mid-water semisub) with operations expected to take approximately 80 days. Estimates place the gross prospective resources at 89 MMboe.
October 9 |
Stena Spey
| 1,500 ft. Semisub
EnQuest and their partner, Ithaca Energy, recently received approval of their Ythan field development plan. Ythan is located in UK North Sea blocks 211/18a, 211/18e and 211/19c adjacent to the Don Southwest field. Development plans call for two production wells and two water injection wells to be drilled. The initial production well will be drilled using the Stena Spey (mid-water semisub) during 4Q2014. First production is expected during 2Q2015.
22 other rig notes were published last week that are only available to RigLogix subscribers.
Subscribe today to get them all in your inbox each Friday.