Rigzone tracks the worldwide offshore rig fleet through its proprietary RigLogix database, and we make some of the key rig fleet data available to you here. You'll find information on offshore rig utilization, day rates, contracts, equipment specs, and much more.
Worldwide Offshore Rig Utilization
Statistics for the primary segments of the competitive offshore rig fleet.
Month
Drillships
Jackups
Semisubs
February 2014
85
98
86.7%
367
431
85.2%
168
189
88.9%
January 2014
84
92
91.3%
371
427
86.9%
170
189
89.9%
December 2013
84
91
92.3%
361
425
84.9%
168
189
88.9%
November 2013
79
89
88.8%
356
417
85.4%
171
189
90.5%
October 2013
77
89
86.5%
356
413
86.2%
172
189
91.0%
September 2013
75
87
86.2%
360
410
87.8%
172
188
91.5%
FEATURED RIG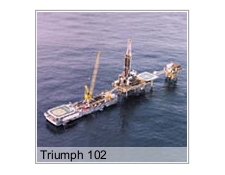 Triumph 102
Manager: Triumph Drilling
Location: Asia - SouthEast
SubseaIQ is focused on investigating and reporting on the latest field developments around the globe.
Learn More
RigLogix is a premium data service providing you with instant access to comprehensive offshore rig data covering the entire global fleet.
Learn More
Offshore Rig Search
Recent Offshore Rig Activity Notes Sample
Below is a sample of the 22 rig activity notes from the last week available to RigLogix subscribers.
February 26 |
Transocean Espadon Drillship TBN 1
| 12,000 ft. Drillship
Transocean has placed an order for two ultra-deepwater drillships from Jurong Shipyard in Singapore. Delivery is scheduled for 2Q2017 and 1Q2018, respectively. Combined construction cost for both rigs, including project management, owner-furnished equipment, inventory and spares, totals $1.24 billion. Included in the agreement is the option to order up to three additional units on similar terms. The first option must be exercised within one year, the second within 18 months and the final within 24 months. Both units will be built based on the Jurong Espadon III design. Features include quarters for 220 crew, 1,250-ton load path, dual activity, DP-3, rated to work in water depths up to 12,000' and capable of drilling to depths of 40,000'. Initially, the rig will be outfitted with one BOP and have the capability to add a second BOP. Both units will also be delivered from the shipyard with 8000' of riser with the ability to add additional riser should Transocean choose to do so.
February 26 |
Marco Polo Jackup TBN 1
| 400 ft. Jackup
Marco Polo Drilling has placed an order with PPL Shipyard for one PPL Pacific Class jackup with a price tag of $214.3 million. Also included with the order are options to build two similar units. Delivery for the firm unit is scheduled for scheduled for 4Q2015 while delivery of the two option units, if exercised, would be in 3Q2016 and 1Q2017. Based on the Pacific Class 400 design, the rig will be rated to work in water depths up to 400' and capable of drilling HPHT wells to a depth of 30,000'. Other features include quarters for 150 crew, 1.5 million pound static hook load capacity, offline handling and ability to jack at full preload.
February 24 |
Maersk Viking
| 12,000 ft. Drillship
Maersk Drilling has taken delivery of their ultra-deepwater drillship, Maersk Viking, from Samsung Heavy Industries in South Korea. Upon arrival in the Gulf of Mexico the rig will begin a three-year contract with ExxonMobil. ExxonMobil awarded the contract to the Maersk Viking in mid-2012 at a rate in the high-$550s (mob fees included in rate). This is the first of four drillships Maersk Drilling is building at Samsung.
February 26 |
Pacific Bora
| 10,000 ft. Drillship
Chevron has issued a Letter of Commitment for a two year extension of its contract with the Pacific Bora (UDW drillship). The extension has a rate in the mid-$610s and will keep the rig busy through August 2016. Final approval is subject to formal approval from Chevron's Nigerian partner and is expected in the next couple of weeks.
February 26 |
Pacific Scirocco
| 12,000 ft. Drillship
Pacific Drilling expressed positive sentiment that Total would exercise its option for the Pacific Scirocco (UDW drillship) which is currently working offshore Nigeria. Total recently moved the rig from the Usan field to Akpo field offshore Nigeria to begin development work there. The two-year extension has fixed price in the high-$490s and an expiration date of April 7th.
17 other rig notes were published last week that are only available to RigLogix subscribers.
Subscribe today to get them all in your inbox each Friday.