Rigzone tracks the worldwide offshore rig fleet through its proprietary RigLogix database, and we make some of the key rig fleet data available to you here. You'll find information on offshore rig utilization, day rates, contracts, equipment specs, and much more.
Worldwide Offshore Rig Utilization
Statistics for the primary segments of the competitive offshore rig fleet.
Month
Drillships
Jackups
Semisubs
September 2014
94
106
88.7%
367
445
82.5%
156
185
84.3%
August 2014
94
103
91.3%
375
444
84.5%
160
186
86.0%
July 2014
94
103
91.3%
367
441
83.2%
158
186
84.9%
June 2014
92
102
90.2%
362
439
82.5%
158
186
84.9%
May 2014
91
102
89.2%
366
435
84.1%
161
185
87.0%
April 2014
86
99
86.9%
367
431
85.2%
164
185
88.6%
FEATURED RIG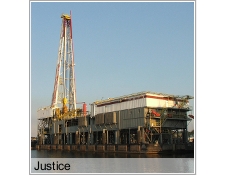 Justice
Manager: Axxis Drilling
Location: N. America - US GOM
SubseaIQ is focused on investigating and reporting on the latest field developments around the globe.
Learn More
RigLogix is a premium data service providing you with instant access to comprehensive offshore rig data covering the entire global fleet.
Learn More
Offshore Rig Search
Recent Offshore Rig Activity Notes Sample
Below is a sample of the 28 rig activity notes from the last week available to RigLogix subscribers.
October 23 |
Ocean BlackLion
| 12,000 ft. Drillship
Hess has selected Diamond Offshore's Ocean BlackLion (UDW drillship) as one of the rigs in their two-rig requirement for their Stampede project in the US Gulf of Mexico. Commencement is expected during 4Q2015 and will keep the rig busy through 4Q2019. Dayrate for the term is in the low-$400s. This contract is still subject to partner approval. The Ocean BlackLion was Diamond Offshore's last uncontracted UDW newbuild. Delivery from Hyundai Heavy Industries is expected during 2Q2015.
October 13 |
Blackford Dolphin
| 7,000 ft. Semisub
MPX North Sea Ltd has completed drilling and logging operations on their Aragon exploration well in the UK North Sea. Upper Jurassic sands were encountered as expected. However, they were water bearing. The Blackford Dolphin (DW semisub) will now P&A the well before moving to her next assignment.
October 16 |
Sevan Developer
| 10,000 ft. Semisub
Sevan Drilling and Cosco have amended the termination rights of their construction contract and deferred the delivery date for the Sevan Developer (UDW semisub). Delivery is deferred for 12 months with mutually agreed options, exercisable at 6 month intervals, to extend the delivery date for up to a total of 36 months from October 15, 2014. . If termination should occur, Sevan is entitled to a refund of its installments less any agreed costs. Sevan will continue to market the rig as part of its fleet and delivery will take place only after a drilling contract is in place that is sufficient for secured financing to be obtained. Payment of the construction liability and other related costs will be deferred until delivery and the service agreement is expected be concluded within Q42014.
October 16 |
ENSCO DS-5
| 12,000 ft. Drillship
Murphy has finalized a deal whereby they will sublet the ENSCO DS-5 (UDW drillship) from Petrobras. Channel checks suggest that the contract with Murphy will start in approximately 7 - 10 days and that they will use the rig on their Urca prospect. Currently, Repsol has the rig on sublet drilling its Leon prospect. The ENSCO DS-5's contract with Petrobras runs through July 2016 at a rate in the high-$430s.
October 16 |
ENSCO 75
| 400 ft. Jackup
Talos Production has awarded a six month contract to the ENSCO 75 (400' ILC) for work in the U.S. Gulf of Mexico. Commencement is expected in January 2015 at a rate in the low-$130s. The rig is currently working for Renaissance Energy on their Eugene Island 331 platform.
23 other rig notes were published last week that are only available to RigLogix subscribers.
Subscribe today to get them all in your inbox each Friday.