Rigzone tracks the worldwide offshore rig fleet through its proprietary RigLogix database, and we make some of the key rig fleet data available to you here. You'll find information on offshore rig utilization, day rates, contracts, equipment specs, and much more.
Worldwide Offshore Rig Utilization
Statistics for the primary segments of the competitive offshore rig fleet.
Month
Drillships
Jackups
Semisubs
March 2014
86
97
88.7%
373
427
87.4%
168
189
88.9%
February 2014
85
97
87.6%
369
427
86.4%
167
189
88.4%
January 2014
84
92
91.3%
371
424
87.5%
170
189
89.9%
December 2013
84
91
92.3%
365
422
86.5%
168
189
88.9%
November 2013
79
89
88.8%
362
416
87.0%
171
189
90.5%
October 2013
77
89
86.5%
359
412
87.1%
172
189
91.0%
FEATURED RIG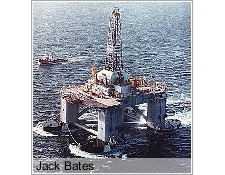 Jack Bates
Manager: Transocean Ltd.
Location: Australia
SubseaIQ is focused on investigating and reporting on the latest field developments around the globe.
Learn More
RigLogix is a premium data service providing you with instant access to comprehensive offshore rig data covering the entire global fleet.
Learn More
Offshore Rig Search
Recent Offshore Rig Activity Notes Sample
Below is a sample of the 17 rig activity notes from the last week available to RigLogix subscribers.
April 8 |
Ocean Confidence
| 10,000 ft. Semisub
Murphy's first well on the Ntem Concession offshore Cameroon failed to encounter hydrocarbons. Bamboo-1 was drilled to a depth of 15,574 targeting a series of stacked Cretaceous aged, basin floor submarine fans with the main target being the Bamboo fan. The Ocean Confidence (UDW semisub) will now head to the shipyard where the DP system will be replaced and other upgrade work will be performed.
April 8 |
Trident VIII
| 300 ft. Jackup
Shebah has awarded the Trident VIII (300' ILC) a two year firm contract for work offshore Nigeria. Included with the contract is a one-year unpriced option. Commencement is expected during 3Q2014 following completion of the rig's contract with Perenco offshore Gabon and a 14-day inspection period.
April 8 |
Key Singapore
| 350 ft. Jackup
Shelf Drilling has elected to re-activate the Key Singapore (350' ILC) which has been stacked offshore Egypt since late 2010. During May 2014, the rig will be mobilized to Singapore where it will undergo an upgrade to the living quarters with an increase from 88 POB to 120 POB; the derrick will be upgraded to 1,500,000 lbs hook load and the rig's main power will be increased. January 2015 is the targeted completion date for the project. Shelf Drilling plans on marketing the rig in the Middle East, West Africa and Southeast Asia. The Marathon LeTourneau 116-C designed unit entered service in 1982.
April 9 |
Ocean Saratoga
| 2,200 ft. Semisub
LLOG has exercised one well of a two-well option for the Ocean Saratoga (midwater semisub) which will keep the rig busy through early June 2014. The option for the second well has been allowed to lapse. Operations on LLOG's Biddy Ball prospect are expected to wrap up by mid-April and plans call for the rig to stay in the Mississippi Canyon area. The rate for the option well will drop from the low-$300s to the mid-$250s.
April 9 |
GSF Celtic Sea
| 5,750 ft. Semisub
Channel checks suggest that the GSF Celtic Sea (DW semisub) is close to receiving a contract for follow-on work in West Africa. Currently, the rig is working offshore Angola for ExxonMobil through September 2014. Contract duration for the new work is said to be between 60 - 90 days with options for up to an additional 120 days and rates for the firm portion around the $350k/day mark.
12 other rig notes were published last week that are only available to RigLogix subscribers.
Subscribe today to get them all in your inbox each Friday.