Rigzone tracks the worldwide offshore rig fleet through its proprietary RigLogix database, and we make some of the key rig fleet data available to you here. You'll find information on offshore rig utilization, day rates, contracts, equipment specs, and much more.
Worldwide Offshore Rig Utilization
Statistics for the primary segments of the competitive offshore rig fleet.
Month
Drillships
Jackups
Semisubs
August 2014
94
104
90.4%
370
449
82.4%
160
189
84.7%
July 2014
94
103
91.3%
361
445
81.1%
158
189
83.6%
June 2014
92
102
90.2%
357
443
80.6%
158
189
83.6%
May 2014
91
102
89.2%
363
439
82.7%
161
188
85.6%
April 2014
86
99
86.9%
367
435
84.4%
165
188
87.8%
March 2014
85
98
86.7%
369
427
86.4%
165
188
87.8%
FEATURED RIG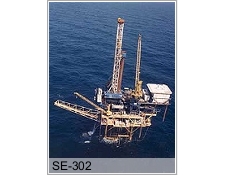 SE-302
Manager: Nabors Offshore
Location: N. America - US GOM
SubseaIQ is focused on investigating and reporting on the latest field developments around the globe.
Learn More
RigLogix is a premium data service providing you with instant access to comprehensive offshore rig data covering the entire global fleet.
Learn More
Offshore Rig Search
Recent Offshore Rig Activity Notes Sample
Below is a sample of the 16 rig activity notes from the last week available to RigLogix subscribers.
September 2 |
Rowan Viking
| 400 ft. Jackup
A subsidiary of Damen Shiprepair & Conversion recently completed a major upgrade of the Rowan Viking at its Vlissingen yard in the Netherlands. Work scope consisted of adding 32-foot extensions to the legs and completing a 5-year inspection. Additionally, the rig was brought up to standard to receive AoC certification for its upcoming Norwegian campaign. The Rowan Viking is under a 15-well contract to Lundin Petroleum at a rate in the mid-$340?s.
September 3 |
Atwood Achiever
| 12,000 ft. Drillship
In October 2011, Atwood Oceanics exercised an option with Daewoo Shipbuilding & Marine Engineering (DSME) to build another 12,000? drillship. Atwood recently took delivery of its new drillship, the Atwood Achiever, at the DSME yard in Okpo, South Korea. The rig is currently sailing to Northwest Africa to drill the Toubkal and Gargaa prospects. Kosmos Energy signed the rig to a 3+3 year contract at a rate in the mid-$590s for work at the company?s acreage offshore Morocco. In April, Kosmos finalized a rig share agreement with Freeport-McMoRan that will allow the rig to drill the Toubkal-1 well in the Mazagan Permit area. Toubkal is a mid-Miocene prospect that is estimated to hold mean prospective oil resources of 1.5 billion barrels. Gargaa is located in the Kosmos-operated Cap Boujdour Block and has 1 billion barrels in P-mean oil resources attributed to it.
September 3 |
ENSCO 106
| 400 ft. Jackup
SapuraKencana continues to extend its streak of gas discoveries with the Bakong-1 well that was recently drilled in Block SK408 offshore Sarawak, Malaysia. Bakong-1, drilled by the ENSCO 106 (400? ILC), is SapuraKencana?s 5th discovery in the last 5 wells drilled in the block. The well cut almost 2,000 feet of gas pay in Late Miocene carbonates. In all, the 5 discoveries have accounted for more than 3 Tscf of gas in-place within SK408. Each well has been suspended for use as future producers. The company plans to drill another 5 wells in 2015 to locate additional gas resources and fulfill the exploration requirements of the block. SK408 participants include SapuraKencana (40%), Petronas Carigali (30%) and Shell (30%).
September 3 |
Bredford Dolphin
| 1,500 ft. Semisub
Lundin Petroleum announced the start of drilling operations at its Vollgrav South prospect in the Norwegian Sea. Well 33/12-10S is being drilled by the Bredford Dolphin (mid-water semisub) in license PL631. The well is designed to test a series of Upper Jurassic sands that have been estimated to contain up to 57 MMboe in gross prospective resources. Lundin anticipates taking 55 days to reach a target depth of just over 10,000 feet. License partners include operator Lundin (60%), Bayerngas Norge (30%) and Fortis Petroleum (10%).
September 5 |
Maersk Developer
| 10,000 ft. Semisub
Statoil provided an update on its exploratory drilling activities in the U.S. Gulf of Mexico. The Maersk Developer (UDW semisub) completed drilling a well that targeted the Martin prospect in Mississippi Canyon block 718. A small accumulation of oil was discovered but Statoil does not consider it to be a commercial discovery. Once P&A operations are complete the rig will mobilize to drill the Perseus prospect in De Soto Canyon block 231.
11 other rig notes were published last week that are only available to RigLogix subscribers.
Subscribe today to get them all in your inbox each Friday.