Rigzone tracks the worldwide offshore rig fleet through its proprietary RigLogix database, and we make some of the key rig fleet data available to you here. You'll find information on offshore rig utilization, day rates, contracts, equipment specs, and much more.
Worldwide Offshore Rig Utilization
Statistics for the primary segments of the competitive offshore rig fleet.
Month
Drillships
Jackups
Semisubs
October 2014
95
109
87.2%
372
444
83.8%
157
180
87.2%
September 2014
95
107
88.8%
370
443
83.5%
158
180
87.8%
August 2014
95
104
91.3%
376
442
85.1%
160
180
88.9%
July 2014
94
103
91.3%
367
438
83.8%
156
180
86.7%
June 2014
92
102
90.2%
362
436
83.0%
155
180
86.1%
May 2014
91
102
89.2%
366
432
84.7%
158
179
88.3%
FEATURED RIG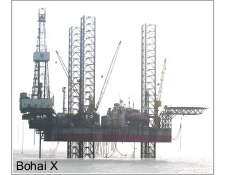 Bohai X
Manager: China Oilfield Services Ltd.
Location: Asia - Far East
SubseaIQ is focused on investigating and reporting on the latest field developments around the globe.
Learn More
RigLogix is a premium data service providing you with instant access to comprehensive offshore rig data covering the entire global fleet.
Learn More
Offshore Rig Search
Recent Offshore Rig Activity Notes Sample
Below is a sample of the 17 rig activity notes from the last week available to RigLogix subscribers.
November 10 |
Cajun Express
| 8,500 ft. Semisub
Cairn and its partners in the Sangomar Block have made a second discovery offshore Senegal with their SNE-1 exploration well. SNE-1 encountered a 311' gross oil bearing column with a net oil pay zone thickness of 118' in Albian aged sandstones which indicate excellent reservoir potential. Preliminary estimates suggest it is highly likely SNE-1 will be a commercial discovery and could lead to a stand-alone development. Both SNE-1 and FAN-1 were drilled using Transocean's Cajun Express (UDW semisub). Once operations on SNE-1 have been completed the joint venture along with the Senegalese Government will evaluate their next steps for an appraisal program in 2015.
November 10 |
Discoverer Enterprise
| 10,000 ft. Drillship
Transocean and BP have signed a one-well contract extension for the Discoverer Enterprise (UDW drillship). Included with the firm well are four priced 1-well options. This will keep the rig busy in the U.S. Gulf of Mexico into early 1Q2015. The rate for the extension is in the high-$390s. Currently the Discoverer Enterprise is working on BP's Thunder Horse South field in the Mississippi Canyon area.
November 12 |
NDC Jackup TBN 7
| 200 ft. Jackup
National Drilling ordered two high spec jackups from Lamprell in an order valued at $365 million. Delivery of the two LeTourneau Super 116E units is scheduled for 4Q2016 and 2Q2017, respectively. Construction will be carried out at Lamprell's Hamriyah facility. National Drilling also holds options to build up to an additional three jackups of the same design.
November 13 |
HAKURYU-5
| 1,640 ft. Semisub
Japan Drilling's Hakuryu 5 (midwater semisub) received a 4 + 1 well contract from Petronas for work offshore Malaysia. Contract commencement is scheduled for late November. Channel checks suggest the dayrate is in the low-$150s for the four firm wells. The rig recently underwent special periodic survey, life enhancements and upgrades to the accommodations.
November 13 |
HAKURYU-12
| 400 ft. Jackup
CGX Energy plans to use the Hakuryu-12 (400' ILC) to drill their Kabukalli-1 exploration well located on the Corentyne Block offshore Guyana. The rig is due to be delivered from Singapore's PPL Shipyard in January 2015. Kabukalli-1 has a proposed depth of 14,770' and is designed to test the Upper Cretaceous geologic objectives in the block. Including contingency, drilling operations are expected to take approximately 73 days.
12 other rig notes were published last week that are only available to RigLogix subscribers.
Subscribe today to get them all in your inbox each Friday.