Rigzone tracks the worldwide offshore rig fleet through its proprietary RigLogix database, and we make some of the key rig fleet data available to you here. You'll find information on offshore rig utilization, day rates, contracts, equipment specs, and much more.
Worldwide Offshore Rig Utilization
Statistics for the primary segments of the competitive offshore rig fleet.
Month
Drillships
Jackups
Semisubs
July 2014
94
103
91.3%
361
445
81.1%
158
189
83.6%
June 2014
92
102
90.2%
357
443
80.6%
158
189
83.6%
May 2014
91
102
89.2%
363
439
82.7%
161
188
85.6%
April 2014
86
99
86.9%
367
435
84.4%
165
188
87.8%
March 2014
85
98
86.7%
369
427
86.4%
165
188
87.8%
February 2014
85
97
87.6%
368
427
86.2%
165
188
87.8%
FEATURED RIG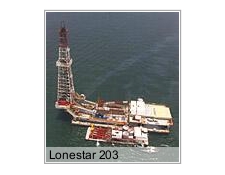 Lonestar 203
Manager: Lonestar Drilling Nigeria Ltd.
Location: Africa - West
SubseaIQ is focused on investigating and reporting on the latest field developments around the globe.
Learn More
RigLogix is a premium data service providing you with instant access to comprehensive offshore rig data covering the entire global fleet.
Learn More
Offshore Rig Search
Recent Offshore Rig Activity Notes Sample
Below is a sample of the 16 rig activity notes from the last week available to RigLogix subscribers.
August 18 |
Atwood Eagle
| 5,000 ft. Semisub
Apache made their first Canning Basin oil discovery with their Phoenix South-1 well located in permit WA-435-P offshore western Australia. Logging has confirmed at least four discrete oil columns ranging in thickness between 85' and 151' in the Triassic Lower Keraudren formation, within an overall, sand-rich section between 13,648' and 14,763' feet below sea level. Preliminary estimates suggest that there might be as much as 300 million barrels of oil in place. However, final calculation of hydrocarbon pay depends on additional analysis. Apache used the Atwood Eagle (DW semisub) to drill Phoenix South-1.
August 21 |
Tasha
| 400 ft. Jackup
PT Apexindo is expected to take delivery of their latest newbuild jackup, Tasha (400' ILC), from Dalian Shipyard in China this week. The F&G JU2000E is rated to work in water depths up to 400' and has a rated drilling depth capability of 30,000'. Until the rig receives its first contract, it will remain on standby at the shipyard in China.
August 21 |
Ocean General
| 3,000 ft. Semisub
Exploratory drilling at the North Kendang-2 (NK-2) well in Salamander Energy's South East Sangatta PSC is complete. The well was drilled by the Ocean General (mid-water semisub) to 8,428-feet true vertical depth sub-sea and cut through two hydrocarbon-bearing intervals. The deepest of the intervals yielded 8 feet of gas condensate pay and was determined to be the over-pressured Upper Miocene sand that was encountered while drilling North Kendang-1. The shallower zone comprised 34 feet of gas pay with some oil shows. Hydrocarbon quantities are considered to be sub-commercial and the well is being plugged and abandoned.
August 19 |
Noble Tom Prosser
| 400 ft. Jackup
Apache has reported their intention to drill an exploration well at the Roc prospect in permit WA-437-P off Western Australia to the permit partners. Roc will be drilled during 2015 as a follow up to the recent Phoenix South oil discovery in adjacent permit WA-435-P. Earlier this year Apache contracted the Noble Tom Prosser (400' ILC) for a long-term commitment and plans to commence operations offshore Australia with the unit during 1Q2015. While it has not been specifically announced that Apache will use this rig, it is the only rig Apache has under contract in the area.
August 18 |
ENSCO 52
| 300 ft. Jackup
Ensco has secured term work for their ENSCO 52 (300' ILC) from Murphy at a rate in the high-90s. The rig now has firm work offshore Malaysia through August 2017. Also included with the new contract is an unpriced option with a one-year duration. Earlier this year Ensco identified this unit as one that would be put up for sale. Now, however, channel checks suggest that the sold sign has been removed.
11 other rig notes were published last week that are only available to RigLogix subscribers.
Subscribe today to get them all in your inbox each Friday.