Rigzone tracks the worldwide offshore rig fleet through its proprietary RigLogix database, and we make some of the key rig fleet data available to you here. You'll find information on offshore rig utilization, day rates, contracts, equipment specs, and much more.
Worldwide Offshore Rig Utilization
Statistics for the primary segments of the competitive offshore rig fleet.
Month
Drillships
Jackups
Semisubs
June 2014
92
103
89.3%
360
444
81.1%
159
189
84.1%
May 2014
91
102
89.2%
365
439
83.1%
162
188
86.2%
April 2014
86
99
86.9%
370
435
85.1%
165
188
87.8%
March 2014
85
98
86.7%
371
427
86.9%
165
188
87.8%
February 2014
85
97
87.6%
368
427
86.2%
165
188
87.8%
January 2014
84
92
91.3%
370
424
87.3%
169
188
89.9%
FEATURED RIG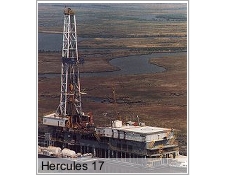 Matagorda Bay
Manager: Baywater Drilling LLC
Location: N. America - US GOM
SubseaIQ is focused on investigating and reporting on the latest field developments around the globe.
Learn More
RigLogix is a premium data service providing you with instant access to comprehensive offshore rig data covering the entire global fleet.
Learn More
Offshore Rig Search
Recent Offshore Rig Activity Notes Sample
Below is a sample of the 13 rig activity notes from the last week available to RigLogix subscribers.
July 8 |
Maersk Giant
| 350 ft. Jackup
TD has been reached at Butch South West in the Permian Zechstein salt formation and while encountering good quality sandstones, failed to encounter hydrocarbons. Butch South West was planned to prove the southwestern extension of the Butch Main discovery drilled in 2011. Centrica and its partners in the Butch discovery will now move forward with development plans and expect to make a concept selection in early 2015. The Maersk Giant (35' ILC) is now expected to head to the yard for a brief stay prior to starting its next contract with Talisman.
July 8 |
Ocean Endeavor
| 10,000 ft. Semisub
Diamond Offshore's Ocean Endeavor (UDW semisub) is rigging up on its first location for ExxonMobil offshore Romania. ExxonMobil plans to use the rig to drill its Domino-2 appraisal well in the Black Sea. ExxonMobil and partner, OMV Petrom, made a significant gas discovery with Domino-1 on the Neptun Block in 2012.
July 9 |
Scarabeo 5
| 6,561 ft. Semisub
Statoil will place the Scarabeo 5 (DW semisub) on a standby status for the remainder of 2014 beginning in August. Statoil has the rig on firm contract through mid-2017. The three-year extension for the rig, which started mid-2014, was signed in October 2012 at a rate in the low-$500s. Currently, the Scarabeo 5 is working on the Visund field.
July 9 |
Transocean Searcher
| 1,500 ft. Semisub
BG Group has availability on the Transocean Searcher (midwater semisub) starting early 2015. They currently have the rig contracted at a rate in the mid-$390s through June 2015. Should BG elect not to conduct two P&A operations with the unit then it will be available from February through the end of the contract for sublet. BG has operated the rig offshore Norway since 2Q2012.
July 10 |
Noble Houston Colbert
| 400 ft. Jackup
Total has issued a one-year contract extension to Noble Drilling for the Noble Houston Colbert (400' ILC). Commencing early 2015, the extension period will have a dayrate in the low-$280s. This contract extension is expected to keep the rig working offshore Argentina through February 2016.
8 other rig notes were published last week that are only available to RigLogix subscribers.
Subscribe today to get them all in your inbox each Friday.