Rigzone tracks the worldwide offshore rig fleet through its proprietary RigLogix database, and we make some of the key rig fleet data available to you here. You'll find information on offshore rig utilization, day rates, contracts, equipment specs, and much more.
Worldwide Offshore Rig Utilization
Statistics for the primary segments of the competitive offshore rig fleet.
Month
Drillships
Jackups
Semisubs
April 2013
71
81
87.7%
349
404
86.4%
177
190
93.2%
March 2013
71
80
88.8%
343
397
86.4%
175
190
92.1%
February 2013
73
79
92.4%
344
396
86.9%
172
190
90.5%
January 2013
72
79
91.1%
340
393
86.5%
172
190
90.5%
December 2012
72
79
91.1%
340
391
87.0%
166
190
87.4%
November 2012
71
79
89.9%
331
388
85.3%
168
190
88.4%
FEATURED RIG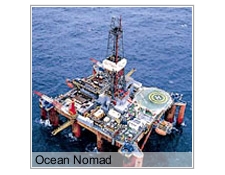 Ocean Nomad
Manager: Diamond Offshore
Location: Europe - North Sea
SubseaIQ is focused on investigating and reporting on the latest field developments around the globe.
Learn More
RigLogix is a premium data service providing you with instant access to comprehensive offshore rig data covering the entire global fleet.
Learn More
Offshore Rig Search
Recent Offshore Rig Activity Notes Sample
Below is a sample of the 16 rig activity notes from the last week available to RigLogix subscribers.
May 9 |
Blackford Dolphin
| 7,000 ft. Semisub
Karoon announced its second oil discovery of the current three-well exploration program in the Santos Basin offshore Brazil. The company announced a 656-foot gross oil pay made up of interbedded sand and shale intervals encountered while drilling the Bilby-1 well in block S-M-1166. Wireline testing of the pay zone is currently underway. Once complete, the Blackford Dolphin (DW semisub) will continue drilling to the planned depth of 15,003 feet where Karoon hopes to find hydrocarbon-bearing Santonian aged reserovoirs. Completion of the Bilby well will mark the end of the exploration program.
May 9 |
Brava Star
| 12,000 ft. Drillship
Quiereoz Galvao will name its newest UDW drillship Brava Star. Currently under construction at Samsung Heavy Industries in South Korea, the rig is expected to be delivered in December 2014.
May 9 |
Arabdrill 60
| 400 ft. Jackup
Arabian Drilling has decided to name its latest acquisition Arabdrill 60. This is the jackup that was recently acquired from Standard Drilling and previously called the Standard Trust. Delivery of the 400' ILC is slated for December 2013 from Keppel FELS.
May 9 |
Deepsea Metro I
| 12,000 ft. Drillship
Ophir and BG Group have locked up the Deepsea Metro I (UDW drillship) for an additional 18 months with an option to extend another 18 months. BG and Ophir will use the rig on jointly held acreage as well as for independently held licenses in Tanzania and Kenya. The rig has firm work through the end of 2014 and if the option is exercised work could extend into late 2015. Industry sources have reported that the dayrate is in the mid-$570s.
May 16 |
Songa Venus
| 1,500 ft. Semisub
Mubadala Petroleum extended its contract for the Songa Venus (mid-water semisub) by an additional two wells. The contract extension has a dayrate in the mid-$230s and will see the rig working through the end of 2013. Also included is an option for an additional two wells. Mubadala plans to use the rig for its drilling program in Malaysia and Vietnam.
11 other rig notes were published last week that are only available to RigLogix subscribers.
Subscribe today to get them all in your inbox each Friday.