Rigzone tracks the worldwide offshore rig fleet through its proprietary RigLogix database, and we make some of the key rig fleet data available to you here. You'll find information on offshore rig utilization, day rates, contracts, equipment specs, and much more.
Worldwide Offshore Rig Utilization
Statistics for the primary segments of the competitive offshore rig fleet.
Month
Drillships
Jackups
Semisubs
December 2014
91
111
82.0%
358
442
81.0%
156
176
88.6%
November 2014
93
109
85.3%
364
436
83.5%
157
176
89.2%
October 2014
93
107
86.9%
369
434
85.0%
156
178
87.6%
September 2014
93
105
88.6%
368
433
85.0%
156
178
87.6%
August 2014
93
102
91.2%
372
433
85.9%
158
178
88.8%
July 2014
92
101
91.1%
365
430
84.9%
154
178
86.5%
FEATURED RIG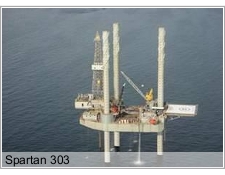 Spartan 303
Manager: Spartan Offshore Drilling
Location: N. America - US GOM
SubseaIQ is focused on investigating and reporting on the latest field developments around the globe.
Learn More
RigLogix is a premium data service providing you with instant access to comprehensive offshore rig data covering the entire global fleet.
Learn More
Offshore Rig Search
Recent Offshore Rig Activity Notes Sample
Below is a sample of the 14 rig activity notes from the last week available to RigLogix subscribers.
January 23 |
Transocean Spitsbergen
| 10,000 ft. Semisub
Norway's Petroleum Safety Authority recently granted Statoil consent to drill the Snefrid North exploration well in Norwegian Sea. Well 6706/12-2 is set to be drilled by the Transocean Spitsbergen (UDW semisub) in license PL218. Statoil, the operator, is drilling the well to prove up additional resources for its Aasta Hansteen development. The rig has been on standby on a reduced rate since late last year as a part of Statoil's assessment of its rig capacity.
January 20 |
ENSCO 8501
| 10,000 ft. Semisub
An exploration well drilled at Noble Energy's Madison prospect in the U.S. Gulf of Mexico has been plugged and abandoned as a dry hole. The well was drilled by the ENSCO 8501 (UDW semisub) to a depth of 16,859 in Mississippi Canyon Block 479. Prior to drilling, Madison was estimated to hold between 45 and 120 MMboe in gross unrisked resources. The ENSCO 8501 has been released and is now idle. Noble Energy operates the block with 60 percent interest on behalf of its partner Stone Energy (40 percent).
January 20 |
Stena Clyde
| 1,650 ft. Semisub
Stena Drilling has received a contract for the midwater floater, Stena Clyde, to work offshore Australia. Commencement of the contract is expected mid-2015 with a 110-day duration. Work is to take place in permit AC/RL9 and covers an exploration well and P&A program.
January 20 |
Aban V
| 300 ft. Jackup
VietSovPetro is considering reducing their fleet of working jackups and pushing drilling activity into 2016 where possible. The rigs at risk of not receiving contract renewals are the Deep Driller 5 (350' ILC) and KS Java Star 2 (300' ILC).
January 22 |
Hercules 251
| 250 ft. Jackup
Hercules Offshore has made the decision to cold stack five mat-supported jackups. The rigs affected are the Hercules 200 (200' MC), Hercules 214 (200' MC), Hercules 251 (250' MS), Hercules 253 (250'). The only currently contracted unit, Hercules 120 (120' MC), will be cold stacked upon completion of its contract with Chevron in early March. All regulatory inspections have either been deferred indefinitely or cancelled for their Gulf of Mexico fleet.
9 other rig notes were published last week that are only available to RigLogix subscribers.
Subscribe today to get them all in your inbox each Friday.