Rigzone tracks the worldwide offshore rig fleet through its proprietary RigLogix database, and we make some of the key rig fleet data available to you here. You'll find information on offshore rig utilization, day rates, contracts, equipment specs, and much more.
Worldwide Offshore Rig Utilization
Statistics for the primary segments of the competitive offshore rig fleet.
Month
Drillships
Jackups
Semisubs
July 2014
93
104
89.4%
363
445
81.6%
158
189
83.6%
June 2014
92
103
89.3%
358
443
80.8%
158
189
83.6%
May 2014
91
102
89.2%
364
439
82.9%
161
188
85.6%
April 2014
86
99
86.9%
370
435
85.1%
165
188
87.8%
March 2014
85
98
86.7%
371
427
86.9%
165
188
87.8%
February 2014
85
97
87.6%
368
427
86.2%
165
188
87.8%
FEATURED RIG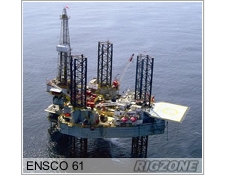 Elizabeth C
Manager: Axxis Petroconsultants
Location: Africa - West
SubseaIQ is focused on investigating and reporting on the latest field developments around the globe.
Learn More
RigLogix is a premium data service providing you with instant access to comprehensive offshore rig data covering the entire global fleet.
Learn More
Offshore Rig Search
Recent Offshore Rig Activity Notes Sample
Below is a sample of the 20 rig activity notes from the last week available to RigLogix subscribers.
August 13 |
Coastal Driller 4001
| 400 ft. Jackup
Coastal Contracts has taken delivery of its first jackup unit, Coastal Driller 4001 (400' ILC) from CIMC Raffles Shipyard in China. Coastal Driller 4001 an F&G JU2000E rated to work in water depths up to 400 feet with a rated drilling depth of 35,000 feet and accommodations for 140 personnel.
August 11 |
GSP Magellan
| 350 ft. Jackup
GSP has expanded its fleet of jackups to eight units with the acquisition of the GSF Magellan (350' ILC) from Transocean. GSP plans has renamed the rig GSP Magellan. The F&G L-780 MOD V-designed unit is rated to work in water depths up to 350' with a rated drilling depth capacity of 35,000' and entered service in 1990. Most recently the rig worked offshore Nigeria for ExxonMobil.
August 12 |
Gold Star
| 9,000 ft. Semisub
Petrobras confirmed the extension of their Jupiter discovery with the success of their Apollonia appraisal well which verified a 285' oil column containing similar fluids to those found in the first Jupiter well. Well 3-RJS-732 is being drilled using Queiroz Galvao's Gold Star (UDW semisub). While drilling is still ongoing, a hydrocarbon column of approximately 1,027' has been encountered starting at a depth of approximately 16,949'. Proposed TD of the well is approximately 18,700'.
August 14 |
Energy Endeavour
| 300 ft. Jackup
Northern Offshore is reasonably confident that Wintershall will exercise the last option on their contract for the Energy Endeavour (300' ILC). If exercised, then the firm work with Wintershall will keep the rig busy through March 2015. The dayrate for the extension will remain the same, in the low-$160s. Upon completion of the Wintershall contract and a short shipyard stay, the rig is then expected to go to work offshore Russia for Rosneft.
August 14 |
Energy Enhancer
| 300 ft. Jackup
Northern Offshore expects Maersk Oil to exercise their remaining one year option for the Energy Enhancer (300' ILC). The expected dayrate for the option is in the mid-$160s and includes market adjustments. Currently, the rig is carrying out a workover program offshore Denmark. Should the option be exercised, then the rig would have firm work through July 2016. Northern Offshore also noted that they expect to keep the rig busy past July 2016 as Maersk Oil has additional work in the area.
15 other rig notes were published last week that are only available to RigLogix subscribers.
Subscribe today to get them all in your inbox each Friday.