Rigzone tracks the worldwide offshore rig fleet through its proprietary RigLogix database, and we make some of the key rig fleet data available to you here. You'll find information on offshore rig utilization, day rates, contracts, equipment specs, and much more.
Worldwide Offshore Rig Utilization
Statistics for the primary segments of the competitive offshore rig fleet.
Month
Drillships
Jackups
Semisubs
July 2014
93
104
89.4%
363
446
81.4%
158
189
83.6%
June 2014
92
103
89.3%
358
444
80.6%
158
189
83.6%
May 2014
91
102
89.2%
364
439
82.9%
161
188
85.6%
April 2014
86
99
86.9%
370
435
85.1%
165
188
87.8%
March 2014
85
98
86.7%
371
427
86.9%
165
188
87.8%
February 2014
85
97
87.6%
368
427
86.2%
165
188
87.8%
FEATURED RIG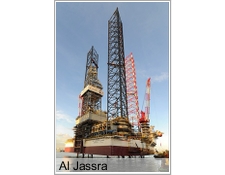 Al Jassra
Manager: Gulf Drilling International
Location: MidEast - Persian Gulf
SubseaIQ is focused on investigating and reporting on the latest field developments around the globe.
Learn More
RigLogix is a premium data service providing you with instant access to comprehensive offshore rig data covering the entire global fleet.
Learn More
Offshore Rig Search
Recent Offshore Rig Activity Notes Sample
Below is a sample of the 13 rig activity notes from the last week available to RigLogix subscribers.
August 4 |
Discoverer Spirit
| 10,000 ft. Drillship
Transocean's UDW drillship, Discoverer Spirit, has wrapped up operations for Anadarko in the U.S. Gulf of Mexico. The rig is now offshore Galveston undergoing a maintenance program with an expected duration of 85 days. Currently, the rig does not have a firm follow-on contract and will be available for operations once the maintenance program has been completed.
August 6 |
West Prospero
| 400 ft. Jackup
Lundin has successfully appraised their 2012 Tembakau discovery in Block PM307 offshore Malaysia. Tembakau-2 penetrated 72 feet of gross gas sands in four sand intervals between 2,952 feet and 4,265 feet and the I20 sand produced at a stabilized flow rate of 15.8 million standard cubic feet of gas per day over an 8-hour period on a 64/64" choke. The I10 sands produced at a stabilized flow rate of 15.9 million standard cubic feet of gas per day over an 8-hour period on a 72/64" choke. Lundin drilled the well using the West Prospero (400' ILC) in approximately 223 feet of water. The rig is now being used for development drilling on the Bertam Platform, also located in Block PM307. Lundin has the rig under contract through May 2016 at a rate in the mid-$150s.
August 6 |
Island Innovator
| 2,500 ft. Semisub
Lundin Petroleum spudded its fifth Barents Sea well (as operator) with the Island Innovator (mid-water semisub) on its Alta prospect. Exploration well 7220/11-1 in PL609 is designed to prove sandstones of Triassic age in addition to carbonates of Permo-Carboniferous age. Lundin estimates that the well could contain up to 261 MMboe. Drilling operations are expected to take approximately 60 days. To date, all wells drilled by Lundin in the Barents Sea, with the exception of one, have been good wells. The Island Innovator has firm work with Lundin through early 2015 and options that could keep the rig busy through early 2017.
August 7 |
ENSCO 90
| 250 ft. Jackup
Talos has released the ENSCO 90 (250' ILC) from its Breton Sound location and the rig is now available for work in the Gulf of Mexico. Currently, the rig does not have any firm work to announce.
August 7 |
Paragon L782
| 300 ft. Jackup
Soco International spudded their Lidongo X Marine-101 exploration well located in the Congo Basin. LXM-1 is designed to test the extension of an adjacent gas/condensate/oil field into the Marine XI block. Soco is using Paragon Offshore's Paragon L782 (300' ILC) to drill the well. Proposed TD is approximately 8,500 feet but can be deepened to 10,170 feet to terminate in the lower most part of the Djeno sandstone formation. Drilling is expected to take between 35 - 45 days.
8 other rig notes were published last week that are only available to RigLogix subscribers.
Subscribe today to get them all in your inbox each Friday.