Rigzone tracks the worldwide offshore rig fleet through its proprietary RigLogix database, and we make some of the key rig fleet data available to you here. You'll find information on offshore rig utilization, day rates, contracts, equipment specs, and much more.
Worldwide Offshore Rig Utilization
Statistics for the primary segments of the competitive offshore rig fleet.
Month
Drillships
Jackups
Semisubs
March 2015
88
117
75.2%
330
456
72.4%
148
181
81.8%
February 2015
90
117
76.9%
334
451
74.1%
151
187
80.7%
January 2015
89
116
76.7%
339
449
75.5%
156
186
83.9%
December 2014
92
115
80.0%
345
447
77.2%
155
199
77.9%
November 2014
96
113
85.0%
354
444
79.7%
156
200
78.0%
October 2014
96
111
86.5%
359
442
81.2%
155
203
76.4%
FEATURED RIG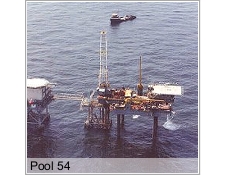 Pool 54
Manager: Nabors Offshore
Location: N. America - US GOM
SubseaIQ is focused on investigating and reporting on the latest field developments around the globe.
Learn More
RigLogix is a premium data service providing you with instant access to comprehensive offshore rig data covering the entire global fleet.
Learn More
Offshore Rig Search
Recent Offshore Rig Activity Notes Sample
Below is a sample of the 24 rig activity notes from the last week available to RigLogix subscribers.
April 8 |
Blake 210
| Platform Rig
Energy XXI has opted to keep platform rig Blake 210 (650 HP) for another two wells on the "D" platform in South Pass Block 58. The new term will begin shortly and now keeps the rig busy to mid-May. Blake began working on the platform last December.
April 9 |
Amazonia
| 8,000 ft. Semisub
Schahin notified Petrobras that they will halt drilling operations on five of their six floaters currently contracted to Petrobras. The units affected are Amazonia (UDW semisub), Cerrado (UDW drillship), Pantanal (UDW semisub), SC Lancer (midwater drillship), and the Sertao (UDW drillship). No mention was made as to the duration of the operation halt. Petrobras is evaluating the appropriate contractual measures.
April 9 |
Ocean Monarch
| 10,000 ft. Semisub
Apache has agreed to sell its Australian subsidiary Apache Energy Limited to a consortium of private equity funds managed by Macquarie Capital Group Limited and Brookfield Asset Management for cash payment of $2.1 billion. The transaction is expected to close mid-year 2015. Apache is fully exiting its exploration and production business in Australia, but will retain its 49% ownership interest in fertilizer producer Yara Pilbara Holdings Pty Limited. Following the sale of their Australian assets, approximately 70% of Apache's production will come from North America onshore which will be complimented by their assets in the North Sea and Egypt. This transaction will not impact the timing of drilling activities for Roc-1 offshore Australia, which is scheduled for 4Q2015. Apache currently has two rigs under contract in the UK, WilPhoenix (midwater semisub) and Rowan Gorilla VII (450' ILC). In Australia the Ocean Monarch (UDW semisub) is currently under contract while the Ocean America (midwater semisub) is expected to start work for Apache late May. Apache recently delayed start-up for the 18-month Noble Tom Prosser (400' ILC) contract to September 2015.
April 6 |
Energean Force
| 656 ft. Tender
Energean Oil & Gas has taken delivery of the Energean Force (self-erecting tender) from the Perama Shipyard in Greece. The rig will be used for a 15-well development program at the Prinos, Epsilon and Prinos North oil fields. KCA Deutag sold the unit to Energean in August 2014
April 7 |
Naga 1
| 1,000 ft. Semisub
Japan Drilling and UMW Holdings Berhad agree to extend their joint venture for an additional five year period. Originally executed in March 2005, UMW and Japan Drilling entered the joint venture to co-own the Naga 1 (midwater semisub). The rig is currently contracted to Petronas for operations offshore Malaysia.
19 other rig notes were published last week that are only available to RigLogix subscribers.
Subscribe today to get them all in your inbox each Friday.