Rigzone tracks the worldwide offshore rig fleet through its proprietary RigLogix database, and we make some of the key rig fleet data available to you here. You'll find information on offshore rig utilization, day rates, contracts, equipment specs, and much more.
Worldwide Offshore Rig Utilization
Statistics for the primary segments of the competitive offshore rig fleet.
Month
Drillships
Jackups
Semisubs
March 2015
88
117
75.2%
312
442
70.6%
147
180
81.7%
February 2015
90
117
76.9%
316
437
72.3%
150
186
80.6%
January 2015
89
116
76.7%
322
435
74.0%
155
185
83.8%
December 2014
92
115
80.0%
330
433
76.2%
154
198
77.8%
November 2014
96
113
85.0%
339
430
78.8%
155
199
77.9%
October 2014
96
111
86.5%
344
428
80.4%
154
202
76.2%
FEATURED RIG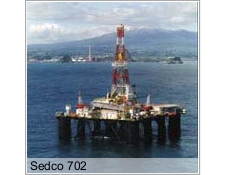 Sedco 702
Manager: Transocean Ltd.
Location: Africa - West
SubseaIQ is focused on investigating and reporting on the latest field developments around the globe.
Learn More
RigLogix is a premium data service providing you with instant access to comprehensive offshore rig data covering the entire global fleet.
Learn More
Offshore Rig Search
Recent Offshore Rig Activity Notes Sample
Below is a sample of the 15 rig activity notes from the last week available to RigLogix subscribers.
April 24 |
Key Gibraltar
| 300 ft. Jackup
KrisEnergy has started drilling operations at its Rayrai-1 exploration well using the Key Gibraltar (300' IC). Rayrai-1 is located in the Gulf of Thailand in block G10/48 in 170 feet of water. Planned total depth of the well is 6,382 feet and it is designed to test Early Miocene stacked fluvial sandstones.
April 20 |
Olinda Star
| 3,600 ft. Semisub
Karoon encountered a 699' gross oil column with their Echidna-1 exploration well in Block SM-1102 offshore Brazil. Drilled in 1,026 feet of water with the Olinda Star (midwater semisub), well 1-KPGL-8-SPS encountered oil in both the Paleocene and Masstrichtian reservoir intervals. Forward-looking plans call for a production testing program to be performed on the Paleocene reservoir section. A production test on the Maastrichtian reservoir section is planned as part of a follow-up drilling program. A decision with respect to the second option well will be made within the next few weeks.
April 17 |
Transocean Searcher
| 1,500 ft. Semisub
BG Norge AS has drilled a dry hole on Block 34/3-5 off Norway. The Transocean Searcher (midwater semisub) drilled the well in 1,322 feet of water to a measured depth (MD) of 14,026 feet. The well will be plugged and abandoned and the rig will mobilize to Kristiansund for around 60 days before it begins a one-well contract with Edison International in block 2/11 in June.
April 15 |
ENSCO 8500
| 10,000 ft. Semisub
Anadarko and ENI have allowed both one-year options for the ENSCO 8500 to lapse. Both options were priced in the low-$310s. Currently, the rig's firm contract will keep it busy through September 2015 in the U.S. Gulf of Mexico.
April 17 |
Key Gibraltar
| 300 ft. Jackup
Shelf Drilling jackup Key Gibraltar (300'-IC) has drilled the fourth and final Rossukon exploration well for KrisEnergy in the Gulf of Thailand. The Rossukon-3ST sidetrack was drilled in 208 feet of water to a measured depth (MD) of 6,645 feet. It intersected approximately 85 feet true vertical depth (TVD) of net oil-bearing sandstones and 63 feet TVD of net gas-bearing sandstones over several reservoir intervals. All four wells Rossukon wells in Block G6/48 encountered oil and gas and KrisEnergy is now assessing development plan for the field. It has the Key Gibraltar under contract until the end of November and will take the rig next to nearby Block G10/48 to drill the Rayrai-1 exploration well. That will be followed by a 15-well development program in the Wassana field.
10 other rig notes were published last week that are only available to RigLogix subscribers.
Subscribe today to get them all in your inbox each Friday.