Rigzone tracks the worldwide offshore rig fleet through its proprietary RigLogix database, and we make some of the key rig fleet data available to you here. You'll find information on offshore rig utilization, day rates, contracts, equipment specs, and much more.
Worldwide Offshore Rig Utilization
Statistics for the primary segments of the competitive offshore rig fleet.
Month
Drillships
Jackups
Semisubs
August 2014
94
103
91.3%
377
449
84.0%
160
187
85.6%
July 2014
94
103
91.3%
369
445
82.9%
158
187
84.5%
June 2014
92
102
90.2%
364
443
82.2%
158
187
84.5%
May 2014
91
102
89.2%
369
439
84.1%
161
186
86.6%
April 2014
86
99
86.9%
371
435
85.3%
164
186
88.2%
March 2014
85
98
86.7%
372
427
87.1%
164
186
88.2%
FEATURED RIG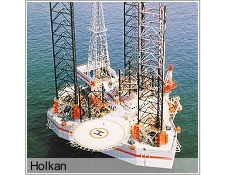 Holkan
Manager: Pemex (NOC)
Location: N. America - Mexico
SubseaIQ is focused on investigating and reporting on the latest field developments around the globe.
Learn More
RigLogix is a premium data service providing you with instant access to comprehensive offshore rig data covering the entire global fleet.
Learn More
Offshore Rig Search
Recent Offshore Rig Activity Notes Sample
Below is a sample of the 12 rig activity notes from the last week available to RigLogix subscribers.
September 13 |
Energy Searcher
| 2,500 ft. Drillship
CAMAC Energy has temporarily halted drilling operations on their Oyo-8 development well due to leaks in the control system hoses for the Energy Searcher's (mid-water drillship) BOP. Drilling on the horizontal portion of the well was being carried out when operations were halted. Replacement hoses have been ordered and are being delivered to the rig. Drilling operations are expected to resume in about two weeks. CAMAC Energy now expects production from the Oyo-8 well in December 2014 while Oyo-7 will come on production in January 2015. Oyo is located offshore Nigeria in OML 120 in approximately 1,000' of water.
September 13 |
Paragon B391
| 290 ft. Jackup
Centrica, and its partners in license P1724, have decided to perform a drill stem test on their Pegasus West Appraisal well. LWD and wireline logging data indicates the presence of natural gas in well 43/13b-7. Pegasus West is located in the Southern North Sea approximately four miles WSW of the Pegasus North discovery well in approximately 95 feet of water. Centrica used the Paragon B391 (290' ILC) to drill both wells and has the rig on contract through 2Q2016.
September 13 |
Kan Tan IV
| 2,000 ft. Semisub
Frigstad's Kan Tan IV (mid-water semisub) has been handed over to Shell Todd Oil Services for their two-well campaign in the Taranaki Basin offshore New Zealand. Ruru-2, which is located in approximately 354' of water, is expected to take 43 days to complete. Maui-8, the next well in the program, is expected to take 35 days to complete.
September 15 |
Jack Bates
| 6,000 ft. Semisub
Transocean's Jack Bates (DW semisub) is making a short stop in Darwin before heading to its next job. ENI is reported to have picked up the unit for a one-well contract in the Timor Sea which is expected to start as soon as the rig finishes its stopover in Darwin. Once ENI releases the rig then Inpex will take the unit for its previously announced two-well program in Australia.
September 17 |
COSLPioneer
| 2,500 ft. Semisub
Once the COSLPioneer (mid-water semisub) completes current operations on the Visund field offshore Norway, Statoil plans to idle the rig during the fourth quarter of 2014. The rig is contracted through the second half of 2016 and Statoil will continue to use the rig for its production program in the future.
7 other rig notes were published last week that are only available to RigLogix subscribers.
Subscribe today to get them all in your inbox each Friday.