Rigzone tracks the worldwide offshore rig fleet through its proprietary RigLogix database, and we make some of the key rig fleet data available to you here. You'll find information on offshore rig utilization, day rates, contracts, equipment specs, and much more.
Worldwide Offshore Rig Utilization
Statistics for the primary segments of the competitive offshore rig fleet.
Month
Drillships
Jackups
Semisubs
December 2014
91
111
82.0%
362
445
81.3%
156
176
88.6%
November 2014
93
109
85.3%
366
438
83.6%
157
176
89.2%
October 2014
93
107
86.9%
370
436
84.9%
156
178
87.6%
September 2014
93
105
88.6%
369
435
84.8%
156
178
87.6%
August 2014
93
102
91.2%
373
435
85.7%
158
178
88.8%
July 2014
92
101
91.1%
366
432
84.7%
154
178
86.5%
FEATURED RIG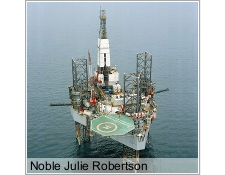 Paragon B391
Manager: Paragon Offshore
Location: Europe - North Sea
SubseaIQ is focused on investigating and reporting on the latest field developments around the globe.
Learn More
RigLogix is a premium data service providing you with instant access to comprehensive offshore rig data covering the entire global fleet.
Learn More
Offshore Rig Search
Recent Offshore Rig Activity Notes Sample
Below is a sample of the 22 rig activity notes from the last week available to RigLogix subscribers.
January 12 |
Energy Searcher
| 2,500 ft. Drillship
Northern Offshore issued a notice of termination to Oceanic Consultants Nigeria Ltd, an affiliate of CAMAC Energy in connection with the Energy Searcher (midwater drillship) contract. CAMAC guaranteed Oceanic's obligations under the contract. Northern Offshore's position is that Oceanic breached various terms of the contract and will be filing a claim in excess of $50 million. CAMAC Energy issued a notice of early termination to Northern Offshore in connection with the Energy Searcher contract citing breach of contract and other material breaches. The contract had approximately six months remaining on a one-year agreement which also included an option to extend for an additional year. The dayrate for the contract, which was signed in December 2013, was in the mid-$270s. Northern Offshore hopes to have the Energy Searcher demobilized out of Nigeria by the end of January. CAMAC Energy is now using the recently hired, Sedco Express, (DW semisub), for drilling and completion operations on the Oyo Field offshore Nigeria. Production from the field is still expected to be online by the end of 1Q2015.
January 12 |
Blake 1505
| Platform Rig
Blake International 1,500 HP platform rig Blake 1505 is now under tow to the "A" platform in South Timbalier Block 311 to begin a 90-day plus options contract with Walter O&G. Operations are scheduled to begin in early February.
January 12 |
Atwood Mako
| 400 ft. Jackup
Atwood Oceanics has received a follow-up 60-day contract for jackup Atwood Mako (400' ILC). While the operator and location are yet to be named, channel checks suggest the work will take place off Vietnam in early April and begin in direct continuation of its current contract with EQ Petroleum. Dayrate for the new contract is in the mid-$150s and includes a priced option at the same rate. Further information regarding the operator and confirmation of the location will be reported as it becomes available.
January 15 |
ENSCO 8501
| 10,000 ft. Semisub
ENSCO 8501 (UDW semisub) is close to completing its contract with Noble Energy. Operations in Mississippi Canyon Block 479 have about a week remaining. Currently, ENSCO has no follow-up work for the rig and it will be hot stacked. It has been on the Noble location since late October 2014.
January 15 |
ENSCO 75
| 400 ft. Jackup
Jackup ENSCO 75 (400'-IC) is scheduled to wrap up work for Renaissance Petroleum in Ship Shoal Block 305 on January 17. The rig will then mobilize to Talos Energy to begin a six-month contract. Reports are also surfacing that Talos may extend the rig's contract for another 90 days past the current July 20 end date, but that has yet to be confirmed.
17 other rig notes were published last week that are only available to RigLogix subscribers.
Subscribe today to get them all in your inbox each Friday.