Rigzone tracks the worldwide offshore rig fleet through its proprietary RigLogix database, and we make some of the key rig fleet data available to you here. You'll find information on offshore rig utilization, day rates, contracts, equipment specs, and much more.
Worldwide Offshore Rig Utilization
Statistics for the primary segments of the competitive offshore rig fleet.
Month
Drillships
Jackups
Semisubs
September 2014
94
107
87.9%
367
443
82.8%
156
179
87.2%
August 2014
94
104
90.4%
375
442
84.8%
159
180
88.3%
July 2014
94
103
91.3%
366
438
83.6%
156
180
86.7%
June 2014
92
102
90.2%
361
436
82.8%
155
180
86.1%
May 2014
91
102
89.2%
365
432
84.5%
158
179
88.3%
April 2014
86
99
86.9%
366
428
85.5%
160
179
89.4%
FEATURED RIG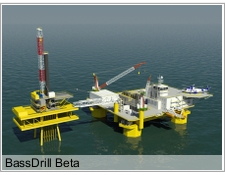 Beta
Manager: Atlantica Tender Drilling Ltd.
Location: S. America - Brazil
SubseaIQ is focused on investigating and reporting on the latest field developments around the globe.
Learn More
RigLogix is a premium data service providing you with instant access to comprehensive offshore rig data covering the entire global fleet.
Learn More
Offshore Rig Search
Recent Offshore Rig Activity Notes Sample
Below is a sample of the 21 rig activity notes from the last week available to RigLogix subscribers.
October 30 |
ENSCO DS-5
| 12,000 ft. Drillship
Repsol and their partner, Ecopetrol, have made a deepwater discovery in the Gulf of Mexico with their Leon prospect. Utilizing the ENSCO DS-5 (UDW drillship), Repsol drilled the well to a depth of 31,771 feet encountering more than 492 feet of net oil pay in a column over 1,312 feet. Leon is located on Keathley Canyon 642 in approximately 6,119 feet of water. Chevron's 2009 Buckskin discovery is approximately 31 miles from Leon in Keathley Canyon 872/785.
October 29 |
West Telesto
| 400 ft. Jackup
Hibiscus Petroleum has reached an agreement with Origin Energy to use the West Telesto (400' ILC) to drill their Sea Lion exploration well. Sea Lion is located on permit VIC/P57 and, if successful, would be developed as a tie-back to West Seahorse. Drilling is expected to commence in 2Q2015 a take approximately 30 days. Prospective resources from Sea Lion are estimated 11 million barrels.
October 30 |
Dukhan
| 300 ft. Jackup
Gulf Drilling's newbuild, Dukhan (300' ILC), completed acceptance testing ahead of schedule and is now en route to its maiden location. Qatar Petroleum hired the rig on a five-year term at a rate in the low-$190s. The KFELS B Class Bigfoot designed unit features accommodations for up to 150 personnel on board; a 75' cantilever outreach and is rated to drill to depths up to 30,000 feet.
October 27 |
WilHunter
| 1,500 ft. Semisub
Awilco and Hess have agreed to extend the execution date for the option on the WilHunter (midwater semisub) which is working in the UK sector of the North Sea. Hess now has until February 25, 2015 to declare the option which can be for as long as 275 days. The firm portion of the rig's contract expires in November 2015 and is followed by a yard stay prior to the start of the option, if exercised. Dayrate for the firm portion is in the mid-$380s.
October 30 |
Noble Homer Ferrington
| 7,200 ft. Semisub
Noble Drilling has elected to cold stack the Noble Homer Ferrington (DW semisub). The F&G 9500 Enhanced Pacesetter-designed rig entered service in 1985 and last underwent a major upgrade during 2004.
16 other rig notes were published last week that are only available to RigLogix subscribers.
Subscribe today to get them all in your inbox each Friday.